Epilator is a handy hair-removal device with tweezers which work by grabbing multiple hair and pulling them out. It gives long-lasting results by removing hair from the roots. For the best and desired results, you need to use an epilator in a certain way.
From choosing an effective epilator to holding it right and the after-care; there are certain guidelines and suggestions that you need to follow. Let us see how to make the most of your smart and innovative hair-removal device.
The Best Epilator
There are different epilators in the market which are designed to meet different budgets and needs. So, it is important to have the epilator with good features and accessories that suits you. There are options like wet and dry epilators, corded and non-corded etc. Number of tweezers, design and accessories are other crucial features that define an epilator. The speed settings and price are the other elements to look for.
Before You Epilate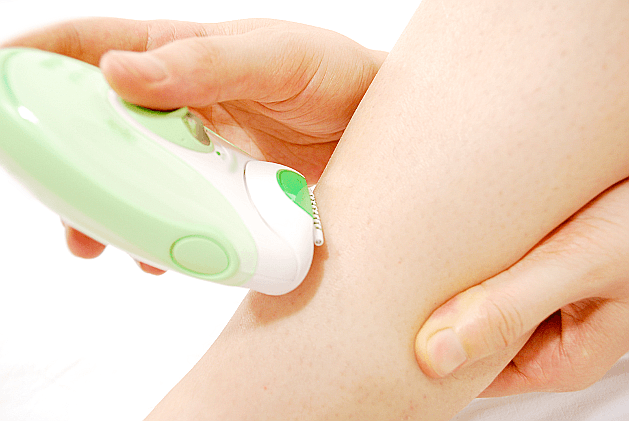 Go through the user manual that comes with the model for safety warnings. Instructions coming straight away from the experts are highly beneficial.
Wash the tweezer heads for hygiene purpose
Charge it full if it is cordless
Try to epilate at night. Having couples of hours with you before you move out will heal your skin.
Use an epilator with patience. Speeding up the process might break the hair and not pull it from the roots. To avoid side-effects and pain, it is best to use at your free time.
Pre-epilating Procedures
Prepare your skin- There are various knacks to using an epilator in a right way. It is good to prepare your skin well before you go about it.
Trim your hair- Begin with trimming your hair 3 to 4 days before epilating. The shorter the hair, the less pain you feel. So, it is good to epilate once every two weeks.
Exfoliation- This is a very important step to prevent ingrown hair. You must exfoliate before each epilation session to remove the dead skin cells.
Light shower– The warm water shower will make your skin soft and supple for the tweezers to glide efficiently. Also, a bath washes off the moisturizer, hence giving you better results.
Begin on a less sensitive area- When you are using it for the first time, choose an area which is less sensitive and have thick skin.
Dry and wet usage- If your epilator is not waterproof, skin has to be completely dry. Rubbing and drying the hair strands in opposite direction of its growth will be a boon as it helps the hair to stand up which is which is beneficial while epilating. For wet usage, you don't need to have a completely dry skin but clean skin is a must.
Note: In both the cases it is recommended to have a clean and clear skin because lotions and moisturizes make hair slippery and it becomes hard to grab those.
All about holding and using the device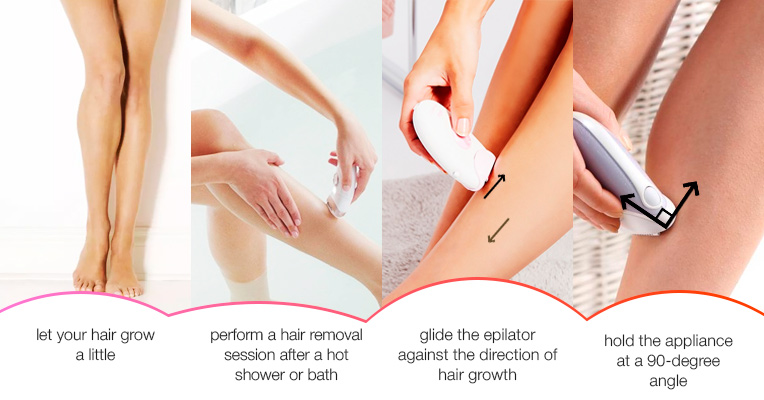 Position of an epilator- The epilator must be held at an angle of 90 degrees to the skin. Also, don't press or push the epilator against your skin. Hold the device lightly so that rotator tweezers can grab and pull the hair out and not hurt the skin.
Pull the skin taut- Holding the skin tight is very important and basic factor when it comes to epilation. Stretching the skin makes epilators to glide easily on the surface.
The direction- The results are better if an epilator is used against the direction of hair growth.
The speed- There are epilators which have dual speed settings. Set your own speed. Preferably it should be slow in the beginning, Don't rush into it because a quick epilation might cut the hair instead of pulling it from the roots.
Aftercare
When your skin has gone through so much, it must be treated with moisturizer or lotions. You may also go for options like cold compresses or ice pack to numb the skin after epilating. It will reduce the pain, prevent ingrown hair and keep the newly epilated areas smooth and clean.
A little forward-planning and a few guidelines can help you a lot in getting through your epilation (especially the first one) in a smooth and comfortable manner.
Also, if you are spending countless hours looking for perfect models; here is our detailed buying guide for the best epilators in the market that you can go through. Our epilators suggestions will help you have the perfect one for your hair-removal needs.