Hair is an easy way to revamp your entire look without changing much. It frames our face and hence a different hairstyle is capable of giving us a different look altogether. Your hairs demand the best flat iron available and should be your must have hair tools any girl picks up whenever you decide to sport a new look. 
A flat iron is essentially two plates between which you can place strands of your hair and it straightens them up by heating and pressing them. Girls with frizzy and curly hair especially love this tool since it gives really sleek and manageable locks. An iron can be used to curl your hair as well straighten them so it's quite a versatile piece if you know how to invest in the right one.
It is also essential to maintain the right hair care when using heating and styling tools on your hair on a regular basis. Make sure to apply a heat protectant before using flat irons. They come in various forms such as sprays, mousses, serums and creams. Also make sure to use a nourishing conditioner after every time you shampoo your hair. Keeping your hair hydrated is vital otherwise the excessive heat can make them rough and dry.
These flat irons however can be quite expensive and if the wrong one is chosen, it can cause major long term damage to the hair. There are end number of straighteners available and hence there are certain key points one must keep in mind before purchasing one.
Choose the Right Size and Shape
Temperature Settings
Material
Hair can be stubborn and hard to style especially if you have a lot of it. Girls with long curly hair spend upto hours trying to straighten them. If you too have struggled for long trying to straighten your hair with the wrong flat iron, we are here to help you select the right one. Here's our top 7 picks for the Best hair Straightener For Thick Hair:
Best Flat Iron for Thick Hair in 2022
1. BaBylissPRO Nano: Best Flat Iron for Thick Hair
Babylisspro nano flat iron comes with titanium plates that are 5 inches long and 1.25 inches wide. This length makes it a great flat iron for long and thick hair since allows you to take a bigger chunk of hair at once, hence saves up on time. The width of the plate is not a lot but the 1.25 inches makes it easy to handle and manoeuvre through hair without tugging and pulling them.
Babylisspro's Ionic technology makes it great for frizzy hair. It heats up evenly and gives a smooth finish. It adds shine to the hair and makes it sleek.
The iron has an LED temperature setting and goes upto 450 degree F which comes in use if you have thick and coarse hair. It has a strong and sturdy body and is overall a great option if you're looking for a versatile pair of flat irons.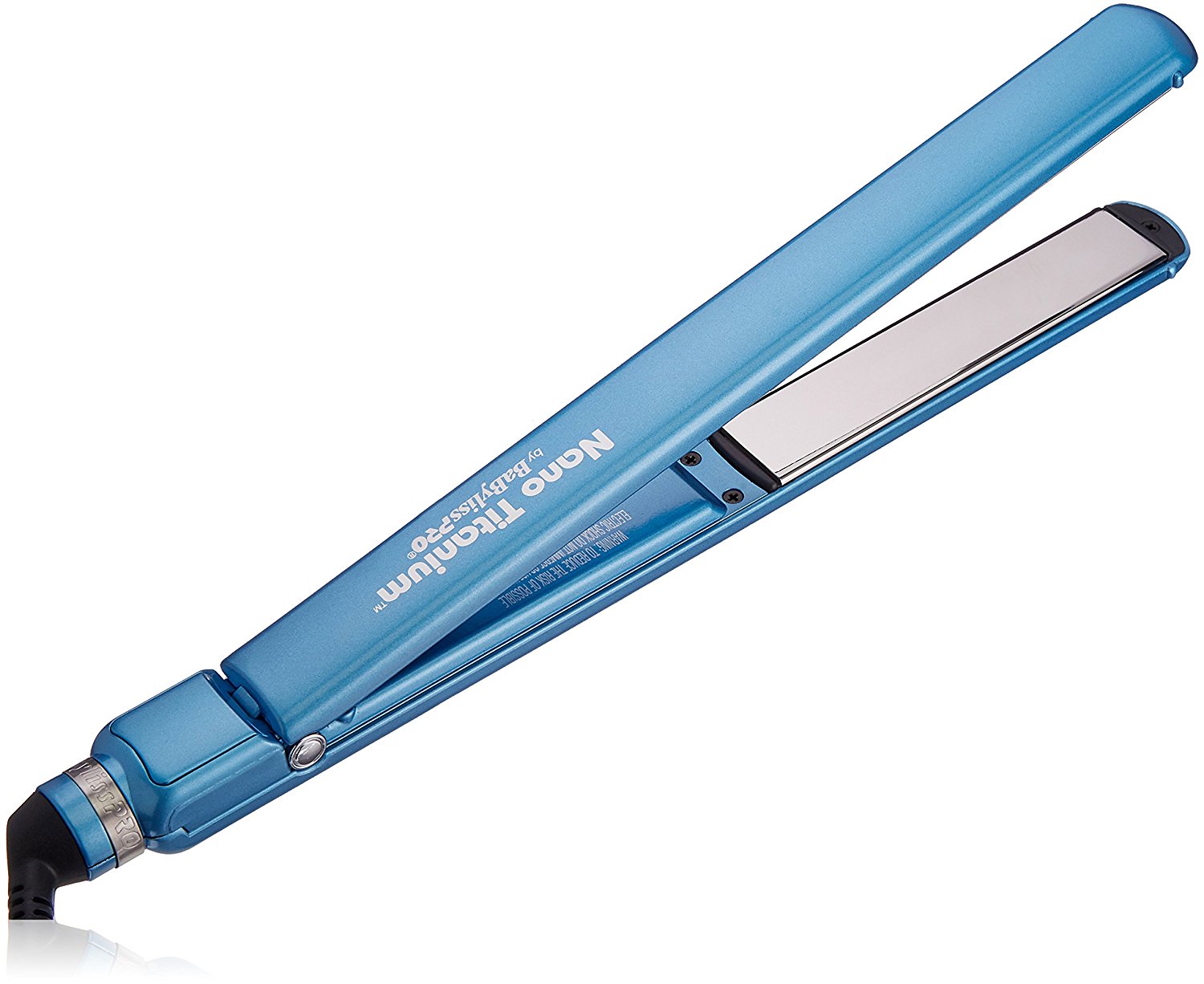 Pros
Very power efficient flat iron
Plates made up of titanium
Comes with 50 heat settings
Cons
The result may not be always smooth
---
2. HSI Professional: Best Professional Flat Iron for Thick Hair
The HIS flat iron has an ergonomic design along with an anti-slip texture that helps give a good grip. It also has curved edges which makes the product really easy to use and multi-purpose.
It comes with a 1 inch plate which can be used to straighten, curl or flip your hair. Though there are wider plates available in the market, its record time heating makes it super-efficient despite the size. 
The temperature control that ranges from 240 degree F to 400 degree F is perfect for all hair types, ranging from fine hair to thick frizzy hair. 
Check Out: Best flat iron for fine hair
It has ceramic ion plates which are infused with tourmaline that helps make the hair silky and gives it a glossy look. 
HIS flat iron is a really pocket friendly straightener for the high-end quality and even comes with a travel bag and heat gloves. Also HIS is one of the best ceramic flat iron for thick coarse hair.
Pros
Works great for black hair
Plates made of ceramic
Can withstand heat up to 450 degrees
Cons
Not suitable for all types of hair
---
3. Xtava Pro-Satin Infrared Straightener
The Xtava straightener is one of the most advanced ones available in the market. It has dual plate technology that heats up evenly and uses infrared waves to straighten the hair that causes much less damage than a regular flat iron.
It has wide 2 inch plates which means it works great for girls with long and thick hair since they can straighten bigger chunks of hair in one go.The plates are made of tourmaline ceramic which is perfect for achieving those lustrous locks while maintaining the smoothness and quality of hair.
It has 90 second heat-up and the temperature range has 10 settings from 265 degree F to 445 degree F. It also has the auto shutoff function which is ideal for people who are in a hurry to leave after straightening their hair.
Xtava a great heavy duty flat iron which is preferred both by amateurs as well as professionals for achieving great results.
Pros
Xtava has dual plate technology for even heat
2 inches plate which are better suited for thick hairs
10 temperature settings
Comes with auto shut off function
Cons
Not good if you have thick curly hairs
Multiple temperature settings can be confusing
---
4. Remington S9130P T|Studio Thermaluxe
Model S9139P flat iron by Remington is a great option for people who like to straighten their hair on a regular basis. It works on thermal technology which ensures even heating up of hair and also has a unique floating design. Both plates have this floating design which means that the plates are in contact with all hair that are placed inside it.
It has 2 inches wide ceramic plates. It's wide enough so enables you to take thick chunks at once and straighten them all quickly. Ceramic plates reduce frizziness of the hair and provides a smooth and silky texture.
Remington flat iron has 30 heat settings up to 450 degree F. It has 15 second heat up which means you don't have to wait long for the iron to get hot. It also has an auto shutoff feature which turns of the iron after 60 minutes of use.
Interesting Read: Best curling iron for fine hair
Pros
Unique floating design for even flattening of hair
2 inches wide ceramic plate
Comes with 30 heat settings
Takes just 15 seconds to heat up
Cons
You can burn your hair if you are not aware about the heat settings
---
5. Moroccan Hit Titanium Flat Iron Hair Straightener
Moroccan hit titanium flat iron will help you achieve hair that not just looks good but even feels great. The Hair straightener comes with a 1.75 inch wide plate which is ideal for thick and dense hair. Its titanium plates not only make the hair shiny but also lock in its natural hydration. It prevents the hair from going dry and damaged and keeps them feeling soft and nourished.
Moroccan titanium flat iron also has a special cool touch grip tip which means even when you're using the iron, there's a special tip that remains cool which enables you to hold and press the flat irons so as to apply an even pressure on your hair.
It comes with an LCD display for temperature settings which range from 265 degree F to 445 degrees F. The iron heats up quickly and also has the auto shutoff feature.This pair of flat irons is great for people who straighten their hair on a regular basis and are looking for something that maintains the quality of their hair.
Pros
1.75 inch wide plate which is great for dense hairs
Comes with special tip for better holding
Comes with LCD display
Quick heating compared to other flat irons
Cons
6. Beautify Beauties Professional Flat Iron
The Beautify Beauties flat iron is again a really versatile and easy to use product that gives great results. It has an in built MHC (Metal Ceramic Heater) technology which enables the iron to heat up instantly and also cool down within a couple of seconds of its use. It takes about 18 minutes for the iron to heat up and it's ready to use.
The plates are 1 inch wide with rounded edges and hence it's great for styling your hair. Its heat technology makes it effective for straightening your hair and the shape and size of it makes it useful for curling and flipping as well.
Beautify beauties flat iron has a temperature range of 290 degree F to 450 degree F. So it's great for rough coarse hair which requires a high temperature to straighten. It comes with an LED display system with 17 heat settings.
Check Out: Best flat iron for thin air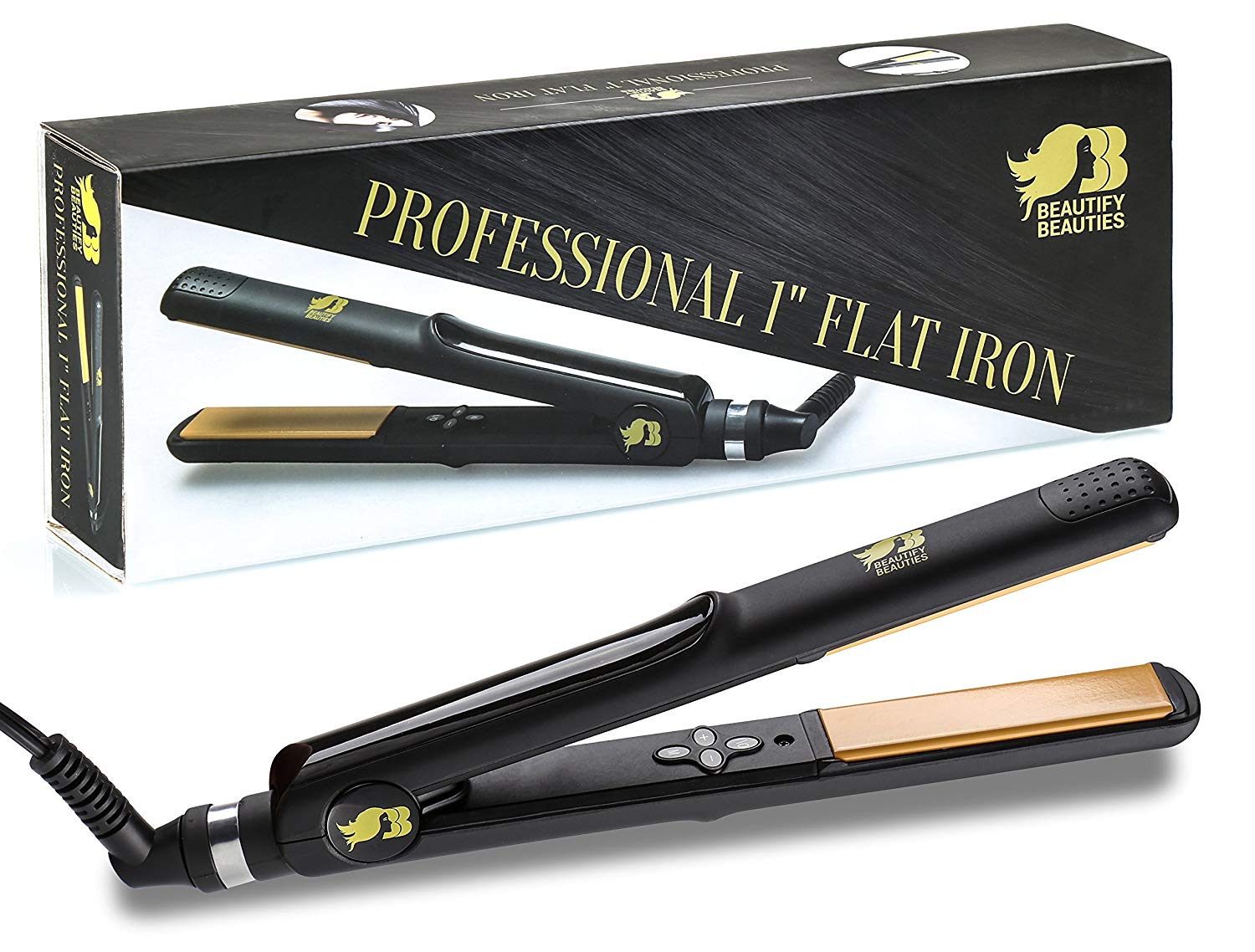 Pros
Comes with MHC tech for quicker heating
Has 1 inch wide plates
The flat iron also has an LCD screen
Comes with 17 different heat settings
Cons
Functions can be complex if you are a beginner
---
7. 6th Sense Styling Technology Professional Flat Iron
This last one on our list is a quick and easy flat iron that gives results in minimal time. It promises to provide 1 pass styling and it indeed stands true to its word. Unlike many other straighteners where you have to run the plates over and over your hair, this one gives you sleek locks in just one pass. (You might have to pass it a second time on some stubborn hair strands though)
The plates are 1 inch wide and are made of tourmaline ceramic which makes sure that the hairstyle lasts a long time and hair feels smooth and silky. It also comes with floating plates and hence applies an even pressure on the hair.
It has heat settings up to 445 degree F but there one shortcoming. It does not come with specific heat settings but instead comes with 3 modes, Low, High and Medium. Low heats up about 266-320 degree F, Medium between 338-392 degree F and High about 410-445 degree F.
Apart from the heat settings, it's a great investment and provides professional looking results.
Pros
Promises to provide hairs with 1 pass styling
Ability to get sleek locks in just one pass
Plates are 1 inch thick and made from ceramic
Comes with simple 3 modes: low, high and medium
Cons
Better for second time buyer users only
8. CROC Classic Flat Iron Hair Straightener
When it comes to using a flat iron, the ergonomic design of the flat iron matters a lot. The CROC classic flat iron is one such iron which has a great design and also feels very great on your hands. The flat iron comes with 100% black titanium floating plates, ceramic heaters and a newly designed ventilation system. The machine has got stationary plates that help for optimized performance. 
Another great feature of this flat iron is that the machine produces negative ions, sealing cuticles which gives it increased shine. You also get a thumb grip that is part of the ergonomic design. The whole machine is sleep and portable weighing only 1.6 pounds. No matter if your hairs are curly or they are some other shape, this flat iron will straighten them with ease.
Interesting read: Best curling iron for fine hair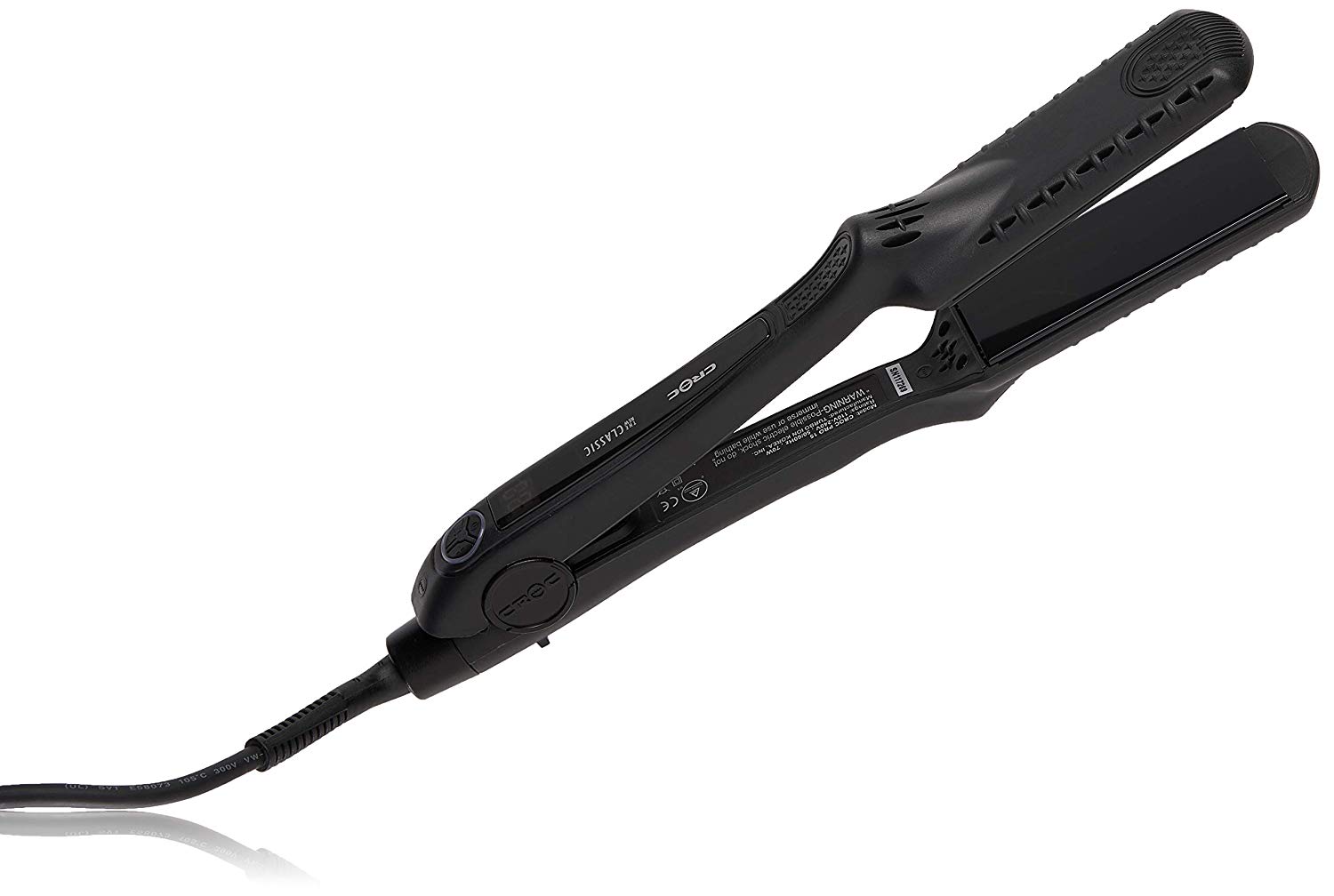 Pros
Has Built-in ceramic heaters to enable heat recovery
Dual Voltage capability
Deluxe thumb grip
Auto shut-off feature
Cons
Some people had issue with temperature dropping
9. RUSK Engineering CTC Technology Professional Straight Iron
Rusk Professional flat iron is an example of CTC technology as per which the iron delivers an even heat throughout the iron which in turn helps straighten the hair quickly. This flat iron is great in terms of quality and has ryton housing , ceramic heater and titanium infused ceramic plates which come with Sol-gel technology. 
Anyone who has hairs which are thick,have lots of curls and have cowlicks, frizz or kinks can try RUSK flat iron. The whole package comes with anti curl+kerashine conditioning and thermal shiny str8. 
The way to use this is fairly easy. You need to start at the crown of the heat and separate 1 inch of your hair. You have to place the iron such that its as close as possible to the roots of your hair. Repeat it all across your scalp. You may also want to read more about the best chi flat iron. 
Pros
Comes with Anti Curl+kerashine
Comes with a dedicated CTC technology
Works smooth for thick hairs, frizzy and kinks
Has a design which gives you good grip
Cons
Doesn't come with auto shut down
Expensive
10. Karmin G3 Salon Professional Ceramic Flat Iron
Karmin G3 salon pro styling comes with 1" pure ceramic plates which have free heat mat and carrying case. Since this article has been written for people with thick hair, you will love karmin G3 Salon Professional ceramic flat iron.
In any flat iron, the types and quality of plate is very important. In Karmin G3, the ceramic plates are of high quality. 
They may appear to be expensive but they are worth it. Make sure you start the process from the roots of your hair and then slowly move towards the tip.
Karmin flat iron is great for flash quick heating, tangle free swivel cord and has temperature settings for all hair types. 
Pros
Comes with ceramic plates
Has dual voltage
The flat iron also has floating plates
Cons
Conclusion
We understand how much pain it can be to get thick hairs straight as there are several factors which are important to keep in mind. We have thoroughly tested our flat irons and made sure you get recommended only the best hair straightener for thick hair. From what we thought, it's safer and best to recommend a flat iron based on what kind of user you are. If you are a first timer getting thick hair straightened then we recommend you the HSI ceramic tourmaline flat iron and for those who have already used a flat iron then we shall recommend you the BabyblissPro Nano flat iron.