If you have fine hair then you need to take some extra precautions when using a curling iron. What's interesting is that if you choose the best curling iron for your fine hair then half the battle is already won. A curling iron is merely a device, what really matters is how you prepare your hair to get the look you desire. Since fine hairs are delicate, they can't take up a lot of heat. In this article we are going to walk you through every aspect of curling iron for your delicate fine hair.
We've asked experts and interviewed girls in our office who from their personal experience have suggested a few tips which we have added in the article. To avoid much confusion, we have made sure to suggest you only the best 6 curling irons for fine hair. Go ahead and flaunt those curls!
How to choose the best curling iron for fine hair?
If you are going to buy a curling iron for fine hair, then you should consider a few factors: barrel size and material, maximum heat and temperature-controlled features, and all over design and comfort. 
Materials
The materials through which the product is made is something that you should always check while buying a hair styling product. There is usually a combination of plastic and metal when it comes to buying a curling iron. But what matters is the material through which the barrel is made. The barrel is made of various types of coatings, like
Ceramic 
Tourmaline
Titanium
Gold 
Steel
Barrel Size
You can overlook the barrel size when it comes to choosing a curling iron for sensitive hairs. However, if you want to achieve those perfect soft curls, then you might want to look for a suitable barrel according to your hair length. 
You can take the thumb rule such that the longer the hair, the bigger the barrel. Also, if you have long and thick strands, then you should look for a barrel which is at least 2 inches in diameter. Even so, if you have relatively long hairs but not thick, then you can go for 1.25 to 1.75 inches in diameter. 
Temperature
When it comes to buying a curling iron for fine hair, the temperature is an important feature. Fine hair can be sensitive to extreme temperatures. That is why you need to look for various levels of heat available in curling irons so that you can control the temperature. 
Temperature control in curling irons can be a bit expensive, but it makes sure that your hairs do not burn while curling as higher temperatures can lead to damage. 
Handle
Everything aside, you need to focus on handle equally as other factors of performance. It's crucial that you can hold the curling iron with ease. 
Here are a few guidelines on choosing the right handle –
Curling irons where the handle is longer than the heating component are more comfortable to control and also decreases the risk of damage to your hands. 
Always check if the handle is non slippery. No matter the material of curling irons, the handle should always prevent slipping. 
Buttons of temperature control are usually placed on the handles. Ensure that the position is such that you do not accidentally hit one of them while operating the product. This can potentially damage your hair if the setting is changed while using the curling iron by mistake. 
Cord length & Swivel
Only a few lucky ladies get to have power sockets near their mirrors at every place. We all know that any other day could be our unlucky day. 
The length of the cord can affect your mood while using the curling iron. A short cord can cause a lot of trouble. This is why you should look for science that has a length of at least 7 feet, although 9 feet is always better. 
Only professionals can understand the importance of having a curling iron with a 360-degree swivel cord. If you are buying this iron to use it daily, make sure that it has a 360 degrees swivel. 
Comfort
The comfort of using a curling iron includes a lot of features. I have already discussed the importance of choosing the right handle and the swivel cord. But it is also essential that the handle and the tip remain cool while the curling iron is on. 
Safety Features
I am going to talk about two features that show the safety of your curling iron.
Automatic shut off – if this feature is a part of your curling iron, then the unit should automatically shut off after a particular pre-time. This is usually 60 minutes, but it can be anywhere between 30 to 90 minutes. 
Thermal Glove – experts have recommended that people wear heat protecting gloves while they are using the curling iron for a long time.
Top 6 Curling Iron For Fine Hair Reviews 2020
1. Kiss Ceramic Instawave 1″ Automatic Curling Iron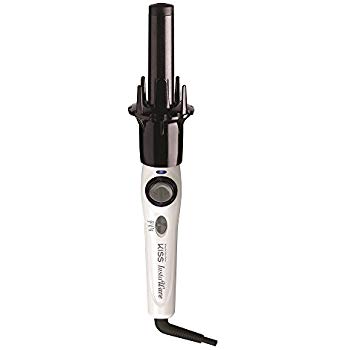 This is the best curling iron for girls who are just beginning to curl their hairs. In ceramic instawave automatic curling iron, you do not have to touch the barrel. It automatically rotates and gives you beautiful curls. The dial has prongs that direct your hairs around the barrel. 
The body of the barrel is made of ceramic, which works perfectly for fine hairs as ceramic is gentle. Another excellent quality about ceramic is its iconic technology that leaves your hair shiny and soft after curling. Thus, reducing frizzy hair. 
The barrel of this curling iron is 1 inch, which is good for medium-sized hairs. The medium size parrot works excellent for fine hair as it reduces overheating. 
There are two temperature settings on this device, which are high and low. The low setting makes sure that it is a temperature that will not hurt you are fine hair, whereas the highest settings can be a bit damaging. 
If you are super conscious about your fine hair, then this is something that you should consider before buying this curling iron. If you are someone who does not know how to curl their hair then and this can be very damaging. 
Because of its automatic barrel, Kiss Ceramic Instawave 1″ Automatic Curling Iron is easy to use and is best for beginners. This iron comes with a 90-minute automatic shut down. 
Pros
This curling iron heats up very quickly
Auto shut off feature is very helpful
The barrel spins in two directions
Most value for money product
Cons
May not be suitable for all hair type
2. The Beachwaver Beach Waver Pro Curling Iron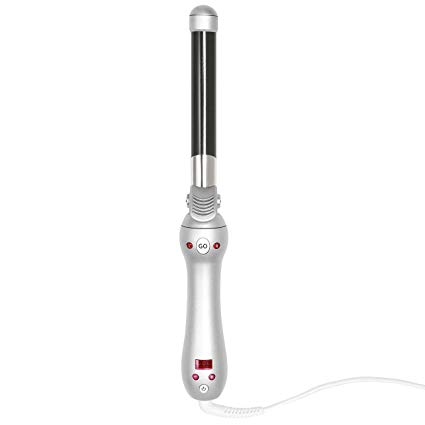 This is also an automatic curling iron whose barrel rotates when you press a button. It also has the option to turn the curling iron on the left or right side by pressing the L and R button, respectively. The rod is 6.5 inches in length, whereas the barrel is 1 inch in diameter.
The barrel is made of ceramic and tourmaline material which is gentle on your hairs. Both of these materials increase the ions, which result in softer curls and no frizzy hair. You are already aware that you require a low-temperature setting for fine hairs whenever using hair styling products. 
This curling iron started 310 Fahrenheit and went up to 450 Fahrenheit in just 30 seconds. With this iron, you will have a range of options to set temperature. 
This device, in particular, is straightforward to use once you get the hang of the device. You do not have to touch the barrel or even think about which side you want to rotate your hairs. All you have to do is put your hairs near the end of the clamp and press the left or the right button to rotate the device, and your curls are ready to flaunt. 
Pros
Wide range of temperature settings
Digitally see the temperature
Simple to use with one hand
Do not need a glove
No trouble of wrapping your hair around the iron
Cons
3. Remington Pro Pearl Ceramic Conical Curling Wand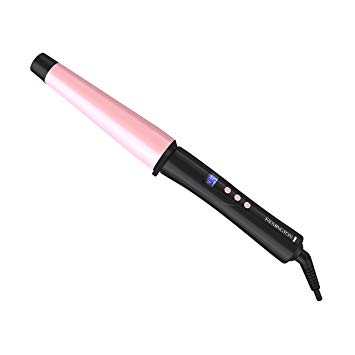 This is a professional product and is not as automatic as the previous ones. Remington pro pearl ceramic conical curling wand comes with a tapered barrel, which is made of a very material. The coating on the top of the barrel is of pearl where discussed further gives you a smooth and luxurious texture. 
This product works great when you have to create waves rather than curls with the barrel get smaller towards the tip. With this, you get a one and half inches barrel at the base. 
As this is a pro product, you get a long barrel so that more hair can be handled at once. Even so, you will have to wrap your hair around the barrel by your hand. 
The exciting part is the availability of 9 heat settings so you can find the right setting for your hairs. You can even lock the temperature setting you like so that you do not have to change it every time you turn on the iron. 
Nevertheless, you will have to protect your hand while curling. There is a chance of burning your fingers while you're wrapping your hair around the wand. The good part is the manufacturer gives you heat resistant gloves with the curling iron so that you don't have to buy one. 
Pros
Has interesting Color
Crushed Pearl as barrel material is unique
Tapered towards the end that gives intense waves
No creases 
Cons
Can only be used by experienced women
4. BESTOPE 5 in 1 Ceramic Curling Iron Wand Set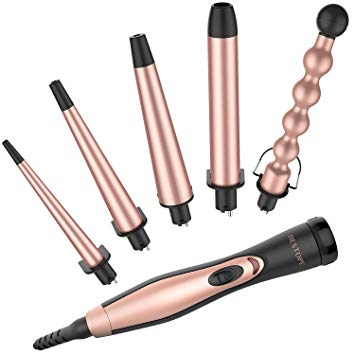 Barrels of this curling iron is made of ceramic and are coated with tourmaline. Ceramic ensures that no hotspot is created on your hairs whereas tourmaline generate ions. Ions nourish your hair and remove frizz. 
With BESTOPE 5 in 1, Ceramic Curling Iron Wand Set you to get 5 different types of barrels that can be switched when required. The smallest wand is tapered and measures 0.35 to 0.75 from tip to base. The next barrel in size is also tapered and measures 0.5 – 1 inch. With this, you also get a bubble wand which is amazing for spiral curls. The fourth barrel is also a tapered wand which measures 0.75 to 1.25 inches. At last, you get a barrel of 1 inch.
This curling iron brings you barrels of every shape and size that you need to style your hair. You can get the temperature up to 410F. 
This curling iron comes with a PTC technology so that you can reach the required temperature quickly. In just 60 seconds your iron will be ready to use. You also get a resistance glove with the set.
Make sure that you are changing the barrels only when they are cool. Even with a glove, you can burn your hand if you change them while they are warm. 
Pros
Comes with 5 barrels giving you various options to style your hair
Work gently
No heat damage on hair
Ceramic and Tourmaline moisturize your hair
Cons
Comes with only one temperature setting
5. HOT TOOLS Professional 24k Gold Curling Iron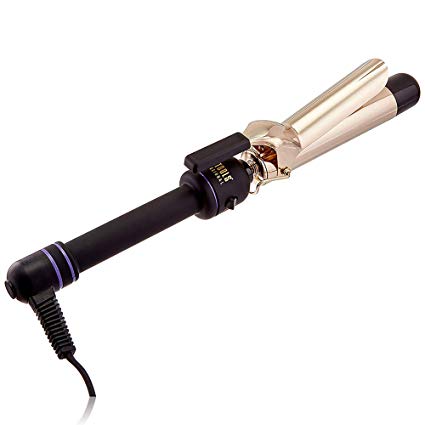 The barrels of this curling iron is made of a very unique material – 24k gold. Barrels of this iron are very gentle on the hair and the heat is consistent across the barrel. Your hair will never burn with this curling iron. 
If you long and fine hairs then the Hot Tools Professional curling iron is best for you as you get more surface for curling. Your curls will also hold for a long time. 
The technology used in this iron is called pulse technology which helps in heat recovery and consistency. The temperature range is from 230F to 430F. It is suggested that you stick to the lower end of the heat setting for fine hair. 
You also get a swivel cord which keeps your hair from getting tangled. Only when I thought this curling iron is best, it gets better. You get an 8-foot long cord, make sure you aren't tripping over it. 
Pros
24k gold surface is gentle on hair
Has a low-temperature setting
Temperature settings are easy to use
Cons
Isn't Dual Voltage
No automatic shut off
6. Jose Eber Curling Iron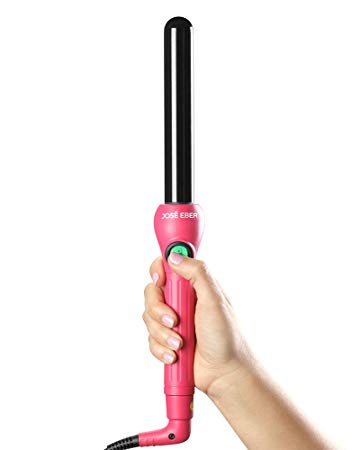 This is also a curling iron with barrel made of ceramic and tourmaline which gives a smooth surface to hair without burning them at all. The combination of Korean tourmaline and ceramic will give you shiny and smooth curls. 
The barrel comes with a 1 inch surface but it has no clamp to hold your hair. Thus, you will have to ensure that you hold your hair in place without hurting your hand. I also suggest that you are always using a hand glove while using this Jose Eber Curling Iron. 
Talking about the temperature of this curling iron, you get 410F and there are no control setting. You might want to take this into consideration while purchasing a curling iron for fine hair. Although, you will get a hand glove to use with this curling iron as it doesn't have hair with no clip or any cool tip. 
Pros
Iron is dual voltage so can carry this along on a vacation
1inch barrel can curl all types of hair
Greater surface area
Cons
Only one temperature setting of 410F.
No clamp to pin the hair right against the hot barrel
Doesn't have a kickstand
Step-by-Step Guide to Curling Fine Hair
You curl your hair the moment you're out of your shower, Just make sure you are not using any type of hair conditioner since they tend to make your fine hair limp causing an issue in holding a curl. Another thing which you can do is to curl your hair on the second or third day of your wash since the natural oil from our skin will ease the process and longevity of your curl. And if you are someone who has thin hairs then consider using a dry shampoo. A dry shampoo will add texture to the hair and also remove any oil.  
Thick hairs tend to hold curls much better and if you want to add on the thickness, you can use hair mousse or any thickening products. For women who often spend a lot of their time outside then you better consider using a heat protectant since heat can cause significant damage to your skin. 
An important step before you begin curling your fine hair is to make sections of your hair. You can set a minimum temperature on your curling iron and with time you should know the optimum temperature that suits your hair type. Some women also use a clip in the curling iron but that can give rise to creases and so it's better if you don't use any clips. Gently wrap your hairs around the barrel using a heat glove. Gently so that you avoid the hair from sticking to the barrel. Repeat this process across your head.   
Since you have fine hair, you need to do the process slowly and do a crisp curl, if you have a curling iron that has a small barrel, that's great since fine hairs have less density causing the curl quickly. Once you have done the curling, let the curl be firm for an hour or two. Between the resting period, notice the weakening of your curls, this is when you know the amount of combing it will required to appear them shiny and curly. To better your curls and make them stay longer, you can also use a hair spray. 
Curling Iron Tips for Fine Hair
If you have already chosen a curling iron. Now it's time to prepare your hair to get the treatment. Though there are a few tips we would love to suggest and these tips have been told us by our fellow friends. 
Don't use multiple products: You could be using multiple conditioners and other accessories for your hair. You should know that all of these products may impact on the way they react to a curling iron. It's better to avoid too many products on your hair. Using a conditioner makes hair slippery and this means they won't get those heavy curls that you would expect.
Use a Hair Protector:  Since our hair gets a lot of dust and heat throughout the day, you should definitely use a hair spray which will keep your hair safe from external heat. A hair spray necessary aids your hair to not get affected by too much heat. Since yours is a fine hair type, it becomes even more important to protect them from excessive heat. 
Know the time to keep the hair on curling iron: This is something which can make or break your game. Since there are several hair types and each hair has its own unique identity in terms of its health, you need to try and test the right amount of time you need to keep your hairs on curling iron such that you get the maximum benefit. 
Common Mistakes While Curling Fine Hair
If this is your first time to get a curl for your fine hair then you may have a lot of questions. Nothing to worry, we have got all your doubts answered. 
Is ceramic or titanium wand better for fine hair?
If you have fine hair type then it is better to avoid titanium and other metals like Gold. The best material that suits fine hair is either ceramic or tourmaline since they are better when it comes to conducting heat and if you don't get a whole ceramic curling iron then you can also check the ones that come with a coating of ceramic.
How can I make my curls stay in fine hair?
To make the curls stay longer, its is recommended that you treat your hair with some mousse using a towel-dry hair. There are also multiple hair sprays that you can use which can give those curls a long lasting effect. 
How to choose the right curling iron size?
It depends on the barrel size. 
| | |
| --- | --- |
| Barrel Size | Hair Length |
| ? Inch | Short, Shoulder Length Hair |
| ½ Inch | Short or Bob Cut hairs |
| ? Inch | Medium Or Shoulder Length Hairs |
| ¾ Inch | Medium or Shoulder length hairs |
| 1 Inch | All Types of Hair Length |
| 1 1/4 Inch | Long, Medium Hair |
| 1 1/2 Inch | Long, Extra-long |
| 1 3/4 Inch | Long, Extra-long |
| 2 Inch | Long, Extra-long |
Conclusion
Now that you are equipped with all the knowledge you need to develop a nice curl to your fine hair. It's time to choose the curling iron that fits your requirement and get going. We have researched and recommended you the best curling irons for which we talked to all our girls in the team who have fine hair and we ensured to also learn quite a few tips that they suggested us.