African American women are the most bold and strong form of mankind. They are the breathing personification of independence, liberty and equality. Throughout history, their hair has been more than just overgrown form of keratin, they have been a fashion statement. From the hippie overgrown afros of 70s to the more recent street inspired deadlocks, hair has inspired culture, music and art. But what makes their hair so unique? 
From our experience of asking and discussing with the girls in our team, we discovered two models from established brands that have a great USP letting them stand out from the rest. If you are on the move and don't wish to read the in-depth review then go for our pick: Best For African American: BabyBlissPro Nano, due to its ability to heat up smartly working evenly for all types of hair. For others who already have experience with different hair straighteners, you can give Paul Mitchell pro tools express. 
10 Best Hair Straighteners for African American Hair
Black hair is very different from other forms of hair. While other races may have straight, or some straighter form of curls, black hair is literally the opposite. Black women have tightly formed strands of curl, which sometimes even grow vertically upwards. It may come in spirals, coils, loops, zig zags, or other curves and tend to make unique and gravity defying shapes. These properties make their hair fun to experiment with. 
An article on Black hair defines the biology of black hair by stating "Compared to silkier hair African-American hair contains more lipids, or fats, but the lipids are less bonded which is why the hair loves oils so much. Along with that, the follicle size is much thicker, and it has a flattened elliptical cross section causing it to be curlier than other hair types." But it is the curving property of black hair, that makes it prone to damage. Know more about the best flat iron for thick hair if you have a hair type that has a thick structure. 
Natural oils of such hairs are the key to healthy hair. With straight or slightly curly hair, the oils from the roots travel down the hair shaft easily making them shiny and flamboyant. But black hair functions a bit distinctively. The grooves of thick curl of black hair prevent the even distribution of natural oils throughout the hair and to prevent this, black hair must be washed more often and taken good care of. 
Black hair is also great for experimentation. An article by The Mashup Americans says "Culturally, Black women have the most options with their hair. It can be permed or natural. Bought or grown. Straightened or fluffy. Completely disappeared with a big pair of earrings to accessorize our bald heads. Don't be alarmed. It's just one of the many great things about us." 
But the concept of perm to black women is different. When a non-black woman talks about perm, they are generally talking about permanently curling their hair. Due to black hair being already curly, when a black woman talks about perm, they mean permanently straightening their hair. This is where flat irons come in the scene. If you are someone with curly hairs then check out the guide on the best curling iron for fine hair. 
A flawless set of straight hair, in my personal opinion, brings out the best beauty of a black woman. Straight hair not only looks good but is sometimes healthier because of the oil flowing properties. People who don't have natural straight hair can resort to a lot of options to straighten their hair. These include keratin treatments and use of flat irons. While keratin treatment is an expensive and long process, flat iron is a cheaper alternative that gives similar results at home. 
Choosing the Best Flat Iron for African American Hair
1. Understand your hair type
All flat irons are hair straighteners, but all straighteners are not flat irons. Hair straighteners are a wide category under which many products fall. Some of these products are straightening brushes, hot combs, and even blow dryers. Straightening brushes are a lot like blow dryers. They blow hot air on your hair. The brush grabs your hair, letting you to gently blow it straight without pressing your hair between two ultra-hot plates. 
The first straightening tool, blow dryers are the best choice for women with slightly curly hair. If the hair only has a slight bend, simply blowing it dry will be enough to flatten it. Curlier hair needs a more proactive approach, which is the case with most African American hair. 
2. Choose the correct plate for your flat iron
Choosing the best flat iron for african american hair is a tough job. There are of course many types of flat irons, but which is the best for your hair type. The shape of the plates matter. A flat iron with round concave edges may be used as a curler. They even have much better straightness, while the ones with sharp edges may sometimes prove to be insufficient and reduce the slight curliness, providing a threadlike straightness. 
Wider plates provide much better straightness without consuming much time. But many women have complained about their heat distribution, which has damaged their hair. If you are planning to travel with your flat iron, you will more likely prefer a narrower flat iron which will fit easily in your baggage. You can also choose a high quality titanium flat iron which shall be very sturdy and last longer. 
3. Always ensure the flat iron with better material build
The material of the plates is also worth considering. Titanium plates are one of the best types of plating. They heat up quickly, applying higher heat more evenly. Ceramic irons are both cost and quality effective while tourmaline plates are the best for damaged hair. Controlling the temperature is also very important. 
While the highest temperature setting will give you faster and more effective straightening but not all hair types need these extreme temperatures. A high temperature, if used carelessly, can damage your hair and at worst, even burn your hair. 
We have listed the best hair straightener for African American hair below.
1. HSI Professional Ceramic Tourmaline Ionic (Best Flat Iron for 4c Hair)
The HSI Professional flat iron is clearly the best flat iron for natural black hair. Upon doing an infrared heat detection test, it was found out that HSI Flat iron works quite uniquely.
The iron plates heat up smartly, making it ready for use in a short time. No wonder why HSI straightener is the most sold and highly rated product in USA.
As discussed earlier, they have ceramic plates which makes it perfect for back hair. The material of the plates heats up to 450 degrees Fahrenheit, distributing heat evenly so that your hair receives the exact same amount of heat making your hairs straight in one pass.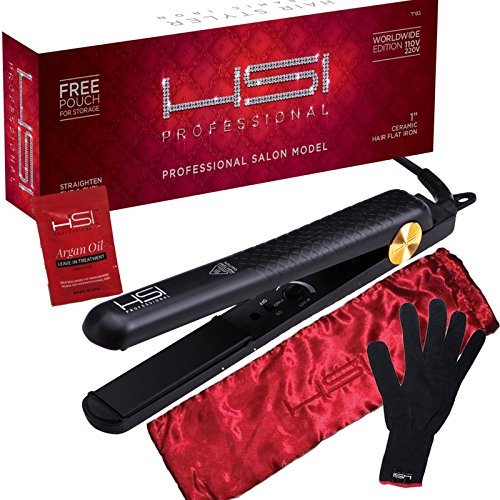 Although always make sure to test and see how your hair reacts to any type of flat iron as the consistency of hair varies from person to person.
Pros
Works great for black hair
Plates made of ceramic
Can withstand heat up to 450 degrees
Cons
Not suitable for all types of hair
Click for Latest Deal
---
2. BaByliss Pro Nano Titanium-Plated Ultra-Thin Straightening Iron
The BaByliss Pro Nano Titanium-Plated Ultra-Thin Straightening Iron is  the best flat iron for black hair if you want to straighten your hair while also caring for the environment.
The straightener uses just 120 volts of power to heat up whereas traditional straighteners can use more than 200 volts! But using less power does not mean the straightener does not perform well enough.
The titanium plates heat up quick and provides an even distribution of heat for black, curly hair.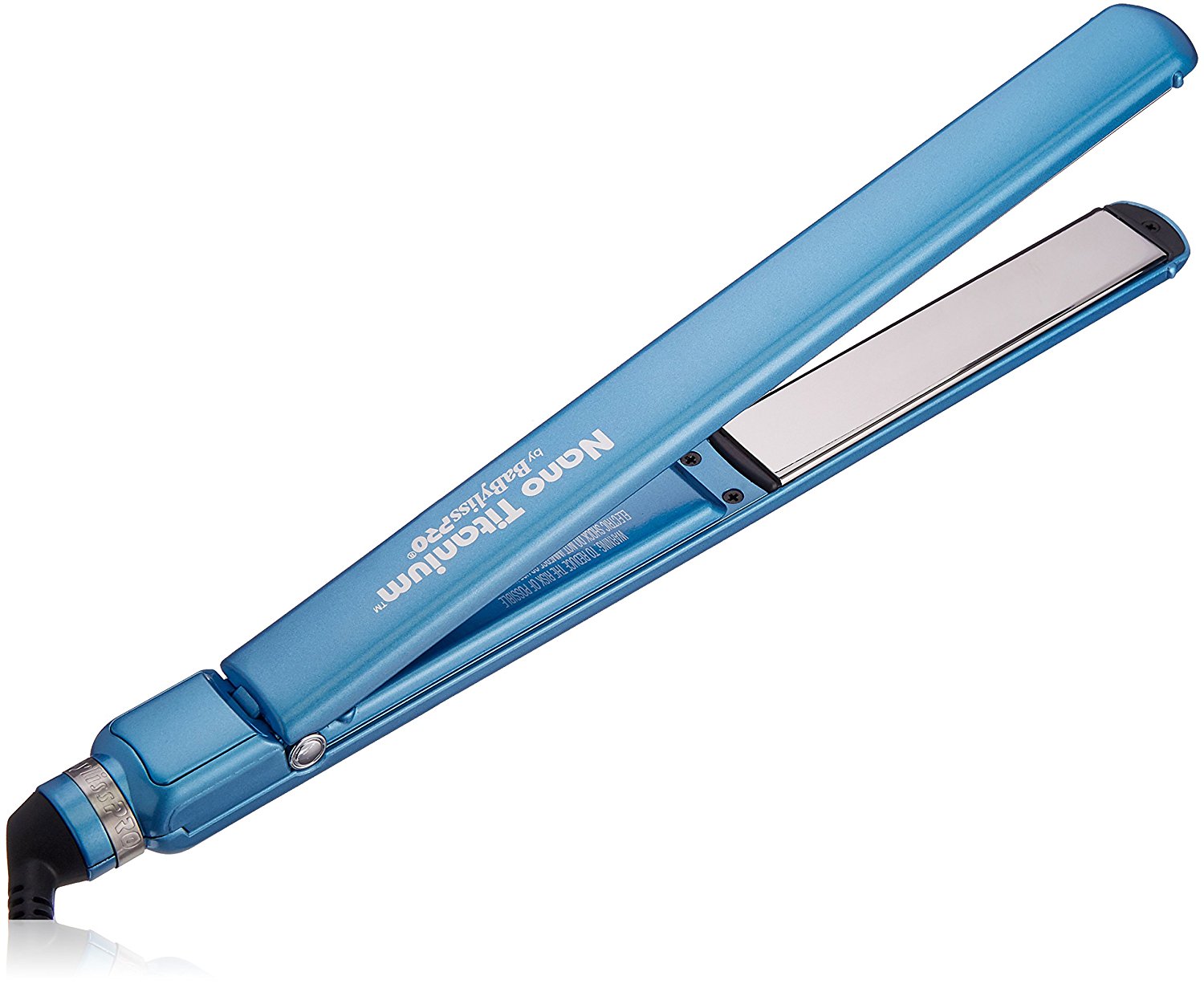 The straightener comes with 50 heat settings, it can be anywhere between 100 degrees and 450 degrees Fahrenheit. This significantly makes it perfect for any hair texture, including black hair. Babyliss flat iron was specifically designed to hold high temperatures for a long time. It can withstand a much higher temperature rating because of its titanium plating. Titanium is also a weary-proof material, so you don't have to worry about handling the flat iron properly. 
Check Out: Best flat iron for fine hair
Pros
Very power efficient flat iron
Plates made up of titanium
Comes with 50 heat settings
Cons
The result may not be always smooth
---
3. Bio Ionic OnePass Nano Ceramic Straightening Iron
The Bio Ionic OnePass Nano Ceramic Straightening Iron is designed for those who fear damaging their hair while straightening it.
Due to the intricate design and structure of black hair, they are prone to damage more often than any other form of hair.
The Bio Ionic OnePass Nano Ceramic Straightening Iron is coated with Silicone Speed Strips at places where the plates touch your hair. 
They mimic the natural hydration of the hair and in the process repairing it rather than damaging it. The ergonomic design of the flat iron makes it fit comfortably in most feminine hands. 
The plates are comparatively thicker than the handles which allow you to straighten more hair in one go. As the name suggests, Bio Ionic OnePass literally straightens your hair in one pass. 
Pros
Mimic natural hydration
Ergonomic Design
In most cases, straightens hair in one go
Cons
Silicone strips may wear down quickly
---
4. CHI G2 Ceramic and Titanium Hairstyling Iron
The CHI G2 Ceramic and Titanium Hairstyling Iron is composed with the best possible materials for flat irons. The plates of CHI G2 flat iron consists of mixture of titanium and ceramic.
The titanium in the plates makes them heat faster and the ceramic evenly distributes the heat. CHI G2 is best for long, curly hair. It is an inch and a quarter thick, which means it straightens more hair in one go. 
The negative charges ions which are associated with the part-ceramic plates neutralise the positive charge and energy from hair. 
While it may sound like a grim thing to do, but this is what makes your hair frizzy and fly away. You can have smooth, silkier, straighter hair for as long as you want it to be. 
Pros
Made with a mixture of titanium and ceramic
Best for long and curly hair
Works on ionic technology
Cons
Lots of fake products online
---
5. Furiden Revolutionary One Step Straightener and Styler
The Furiden Revolutionary One Step Straightener and Styler is literally a revolutionary two in one hair product. The round edges and design of the straightener make it usable as a curling iron.
It is a perfect product to travel with due to its compact size which fits easily in baggage and the two in one feature helps saves you from carrying an additional hair tool. 
The material in the plates makes the flat iron heat up fast. As fast as 15 seconds! Furiden flat irons are known for their practicality. The product's 97-inch long cord with its 360-degree swivel cord makes manoeuvring very easy. 
Pros
Has round edges for better curling
Compact size for better portability
Comes with a 360 degree swivel cord
Cons
Material build is of a cheaper quality
Takes around 15 seconds to heat up
---
6. Croc Classic Nano-Titanium Flat Iron
The Croc Classic Nano-Titanium Flat Iron is a unique, one of a kind flat iron. The first thing that will catch your eye is its shape.
The ergonomic design of the product lets you hold the device easily in your hands. Performance wise, the flat iron works very efficiently.It offers 25 heat settings between 200 degrees to 450 degrees Fahrenheit. 
The difference between two consecutive heat settings is of mere 10 degrees, which lets you choose precisely the perfect heat for your hair. The best feature of Croc straightener is its auto shut down feature.
If you are one of them who forgets to turn off the hair straightener when you leave the house, Croc Classic Nano-Titanium Flat Iron has you covered. The flat iron turns itself off after some time so that you don't burn your house down. 
Pros
Ergonomic Design
Comes with 25 heat settings
Comes with auto shut down feature
Cons
May shut down automatically at times
---
7. Mondava Professional Ceramic Tourmaline Flat Iron Hair Straightener
Make your hair pin straight with the special ceramic plates charged with negative ions of the Mondava Professional Ceramic Tourmaline Flat Iron Hair Straightener.
Curly hairs can be very hard to get straight. And when they do get straight, the get fuzzy and dry easily. 
This is because of the presence of positive ions in your hair. The Mondava Professional Ceramic Tourmaline Flat Iron Hair Straightener neutralises the positive ions with its negative charge and gives you silky smooth straight hair every time. 
The one and a quarter inch thick flat iron straightens your hair much faster making it perfect for using in the morning before work or right before an event.
 The straightener is easily one of the best straighteners in the market, it gives the salon perfect hair at a much cheaper price.
Pros
Works by neutralizing ions
Much cheaper compared to its competitors
Cons
---
8. Kipozi Professional Flat Iron
The Kipozi Professional Flat Iron is a very innovative flat iron. The plates are a mixture between titanium and ceramic which makes it heat faster and evenly while going easy on your hair.
The ceramic in the plates does not tug your hair or gets sticky. However, the innovation lies in the settings of the flat iron.
The straightener comes with three temperature settings, the first is for fragile hair, the second is for damaged hair, and the third is for healthy hair. 
The temperature ranges between 270 degrees and 320 degrees Fahrenheit, 330 degrees and 380 degrees Fahrenheit, and 390 degrees to 450 degrees Fahrenheit, respectively. 
It is good to know the already established temperature guidelines. It reduces the risk of getting your hair damaged.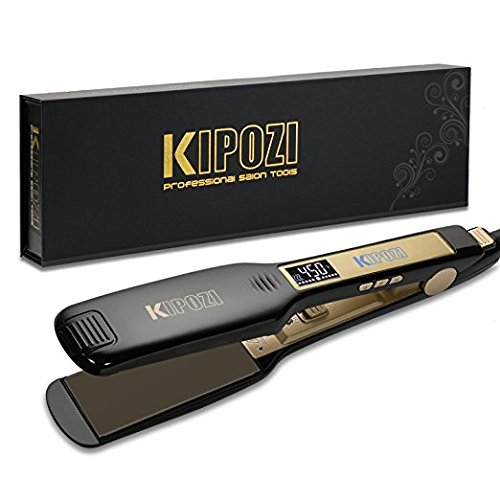 Pros
Made with a mixture of ceramic and titanium
Innovative Settings for flat iron
Comes with 4 temperature settings
Cons
Not suitable for dual voltage
---
9. Paul Mitchell Pro Tools Express Ion Smooth+ Flat Iron
If you worry too much about damaging your hair, or in the worst case, burning it then the Paul Mitchell Pro Tools Express Ion Smooth Flat Iron is your saviour.
The straightener has an ergonomic design with narrower handles to fit in your palm perfectly.
Most of the flat irons have very generic heat setting, and you have to play a game of mind math to determine the temperature of the flat iron. 
Black hair with its intricate design is prone to high damage with the wrong temperature settings. 
But not with Paul Mitchell Pro Tools Express Ion Smooth which comes with an LCD display to show in real time the temperature of the plates so that you don't have to guess. 
Pros
Has an ergonomic build
Best for black hair type
Comes with LCD display
Cons
Expensive compared to others
---
10. Isa Professional Titanium Flat Iron Digital Hair Straightener
The Isa Professional Titanium Flat Iron Digital Hair Straightener is one of the finest flat irons for black hair. The unique design of the flat iron will grab your attention as easily as it will fit in your hands.
And the results from Isa flat iron are amazing. The technology in Isa flat iron is mirrored titanium plating that creates the same temperature on both the plates, straightening your hair evenly from both sides. 
The curved shape allows it to be used as a curler too, so you don't have to worry about carrying two different hair tools. The flat iron is also equipped with an LCD screen that shows in real time the temperature of the plates, so that you don't damage your hair. 
Pros
Has a unique design compared to others
Has mirrored titanium plating
Comes with LCD screen
Cons
Handle can get hot at times
---
Conclusion
But just straightening your hair does not mean that it will stay straight forever. The heat that comes off the flat iron, might at times damage your hair if not handled properly, and only the professionals at the salon are trained to do it. To avoid prolonged hair damage, you must wash your hair at least one a week. Using a hair protection spray before styling will lessen the effects of the heat and taking a hot oil treatment twice a month will help to nourish it. If you decide to braid your hair after straightening it, make sure the braids are not too tight. From the experience, we would recommend you Babyblisspro to be the best flat iron for natural hair if you are a beginner else go for Paul Mitchell Pro Tools which is a great device.