Nail art is a specific form of art where you decorate your nails by making use of different elements which make them stand out from the crowd. Whether you are looking for a nail art kits for beginners or a nail art kits for professionals, Every day there are more brands thane ver which are pushing new designs to explore this part of the body that has remained unexplored for many decades now. There is an array of elements that go inside a nail art kit. You can use it all to decor your nails and give a statement.
Nail art design kits is no more about just coloring them fancy but it's more about giving a sense of character to your nails. A bit of nail art can transform your entire look. There is so much to experiment that you can fashion one nail art each day of the week.
Looking out for good quality nail art can be a cumbersome task as there are many options on the market and each design appeals to different people. If you are a beginner then applying nail art can be a hard task and so we recommend you to have someone else do it for you. In the list below we mention some of the best nail art kits available:
10 Best Nail Art Kits For Beginners And Professionals In 2020
When it comes to choosing the best nail art design kit, there are a lot of variables to look for as it can be a complicated process. Some ladies may love the shiny kits that are more focussed on glittery colors while some may prefer more sober design kits.
Shape of nails: Different people have all the different types of nails and its very
Type of nail: Acrylic Nails or Natural Nails
Type of design
Budget
We have come up with a list of the 5 best nail art kits that you can try based on your preference.
1. Pixnor RUMIO 5 Professional: Best Nail Art Kit For Beginners
The Pixnor Rumio 5 is one of the finest and top most professional nail art kits. Since some time now, there is no other nail art kit that comes close to this one. Made specially for people who have just began experimenting with nail art, they are also preferred by professionals. They come with multiple attractive options.
Such nail art design kits are available at affordable rates for under 10$. Pixnor set includes a whole range of tools and all the required material you would need to create beautiful patterns with your nails.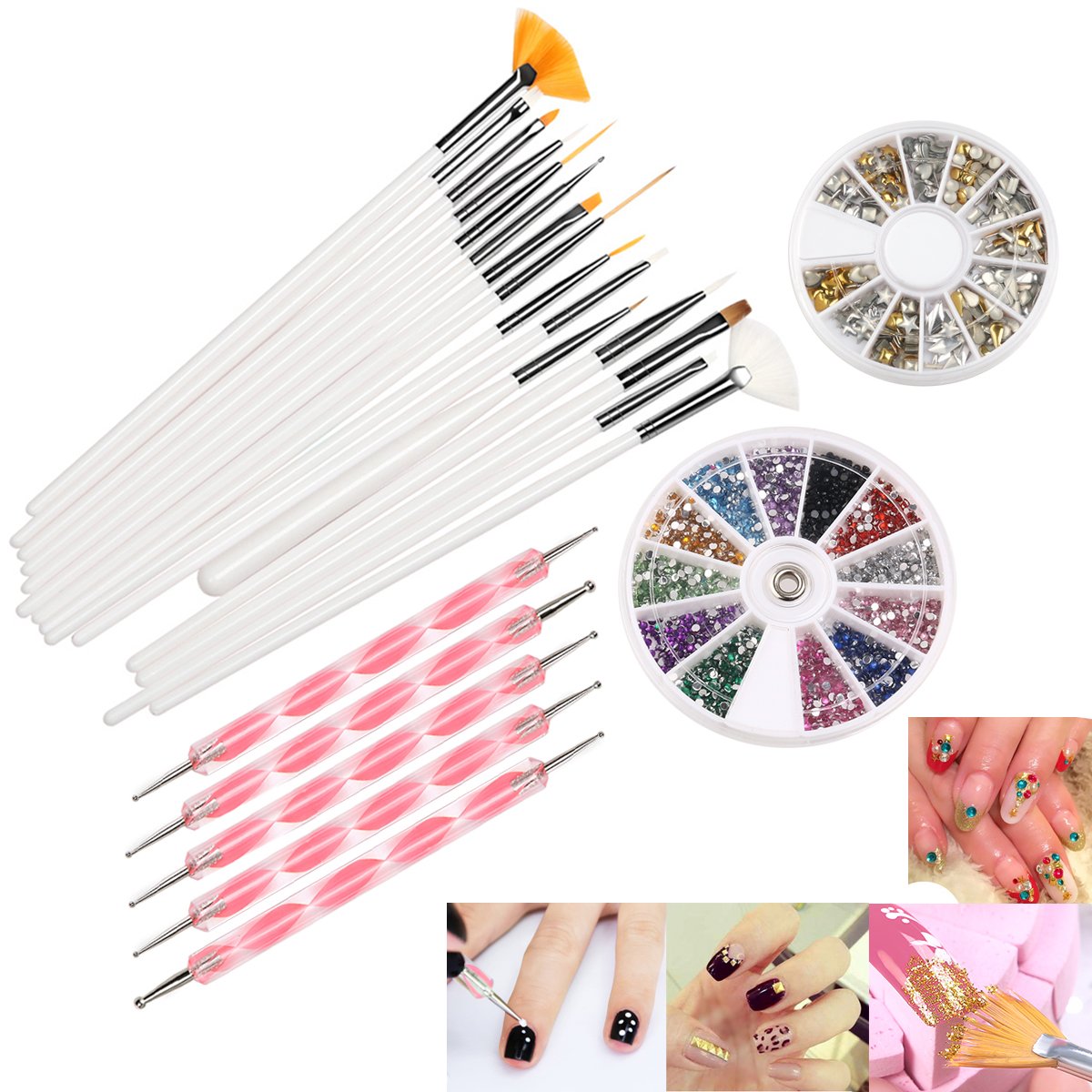 What you get inside?
15 nail art professional brushes in a variety of sizes which are easy to clean, last long and are suitable for multiple nail decoration tasks and bring out new effects.
A whole range that helps you sport 3-D decorations which also include gold and silver studs.
A very practical nail art case that has been designed such that you don't mix so many tiny items all together as the case exposes a very small compartment at a time.
In nail art, you can create a variety of designs using the dotting pens and with this kit, you get 5 such pens. The dotting pens are also one of the USPs
You also rhinestones in 12 different colors.
PROS
One of the most affordable and complete nail art kits
Best nail art kit for beginners and also suitable for advanced professionals
Works smoothly for natural and acrylic nails
CONS
No nail glue, stickers or glitter provided with the kit
---
2. Beaute Galleria Nail art kit
The Beaute Galleria Nail art kit has somewhere around 50 kinds of brushes, dotting pens to stripping tape that includes everything from dotting pens to detailing brushes. You also get 30 striping tapes. Not only is the bundle very light weight but its very much portable so ladies can feel free to carry it around with you.
Beaute galleria gets around 5 pieces of dotting pen where you get double ending dotting tools in 10 different sizes. These dotting pens make for a great size dots or swirl patterns. This will allow you to do lots of creative and create interesting new design in a matter of seconds. This kit is especially known for the quality of its material.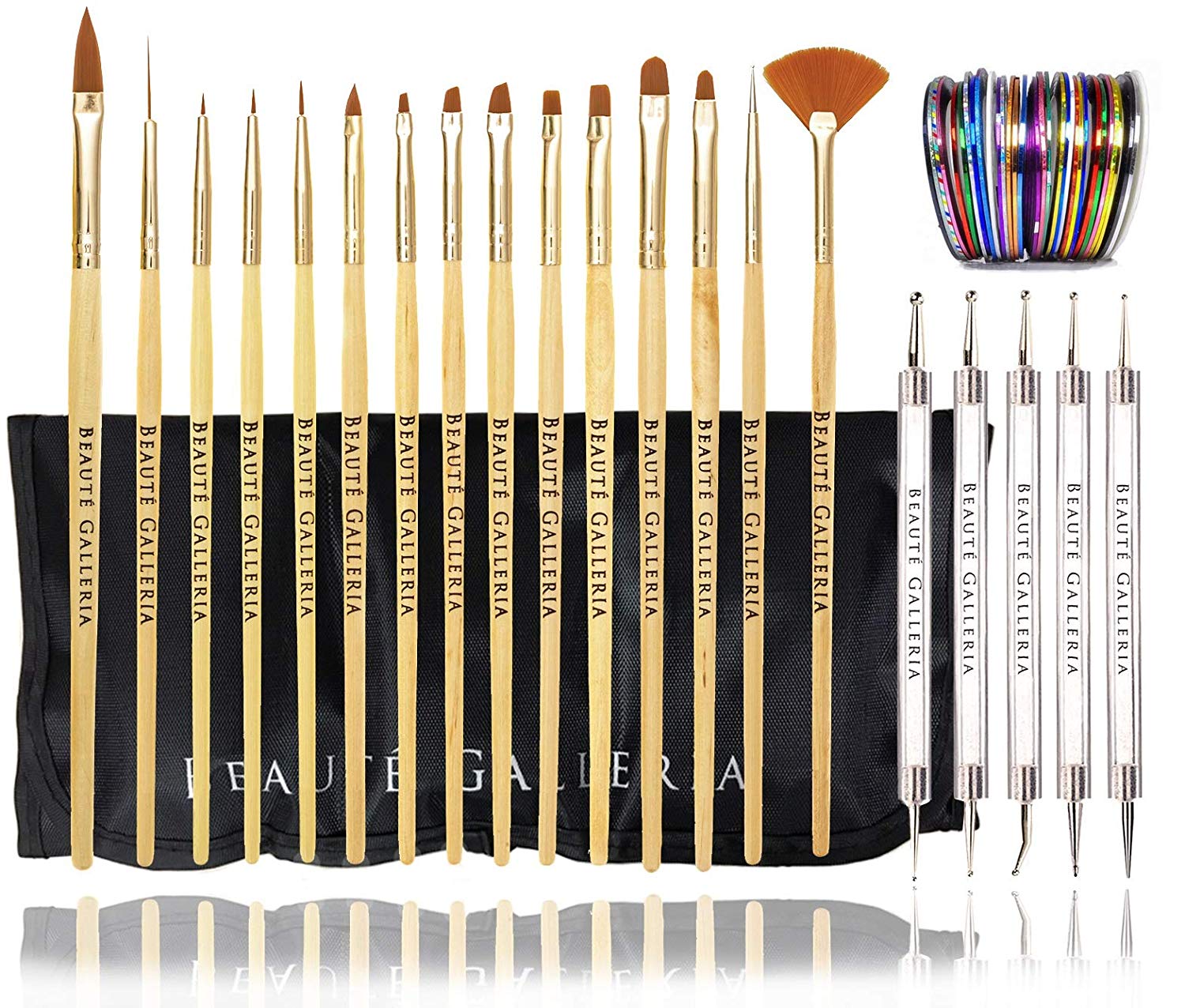 Working on your nails is similar to working on a hard surface and so you would quality brush to stroke over your nails. This kit comes with a wide range of brushes that are quite useful, you also get a striping tape that's essential for anyone who uses art kits frequently. Beaute galleria is an affordable nail art kit and comes with a pouch for portability.
What you get inside?
5 Pieces Dotting Tool Marbleizing Pen (10 Sizes)
15 Pieces Acrylic Gel Detailing Painting Brushes Liners
30 Pieces Striping Tapes

PROS
Pack of 50 that also has detailing brushes and 30 striping tapes
Comes at an affordable price
Kit comes with a pouch that makes it portable
CONS
There are no tutorial on how to make the most of this kit
---
3. Nail art tools manicure kit: Best Nail Art Kit For Professional
Nail art tools kit by LoveOurHome is one of the highest rated nail art design kits on Amazon. Everyone seems to love it. The set comes with around 15 pieces of nail art brush which you can use to draw anything over your nails from occasions like Halloween to birthday parties. You also get elegant tape line stickers.
The set of materials inside the kit is diverse and focussed towards different scenarios when you will use the kit. There are line drawing brushes that you can use to draw the contours of your nail, the dotting brushes to sport those polka dots and finally a favorite flat fan brush which adds to those final touches.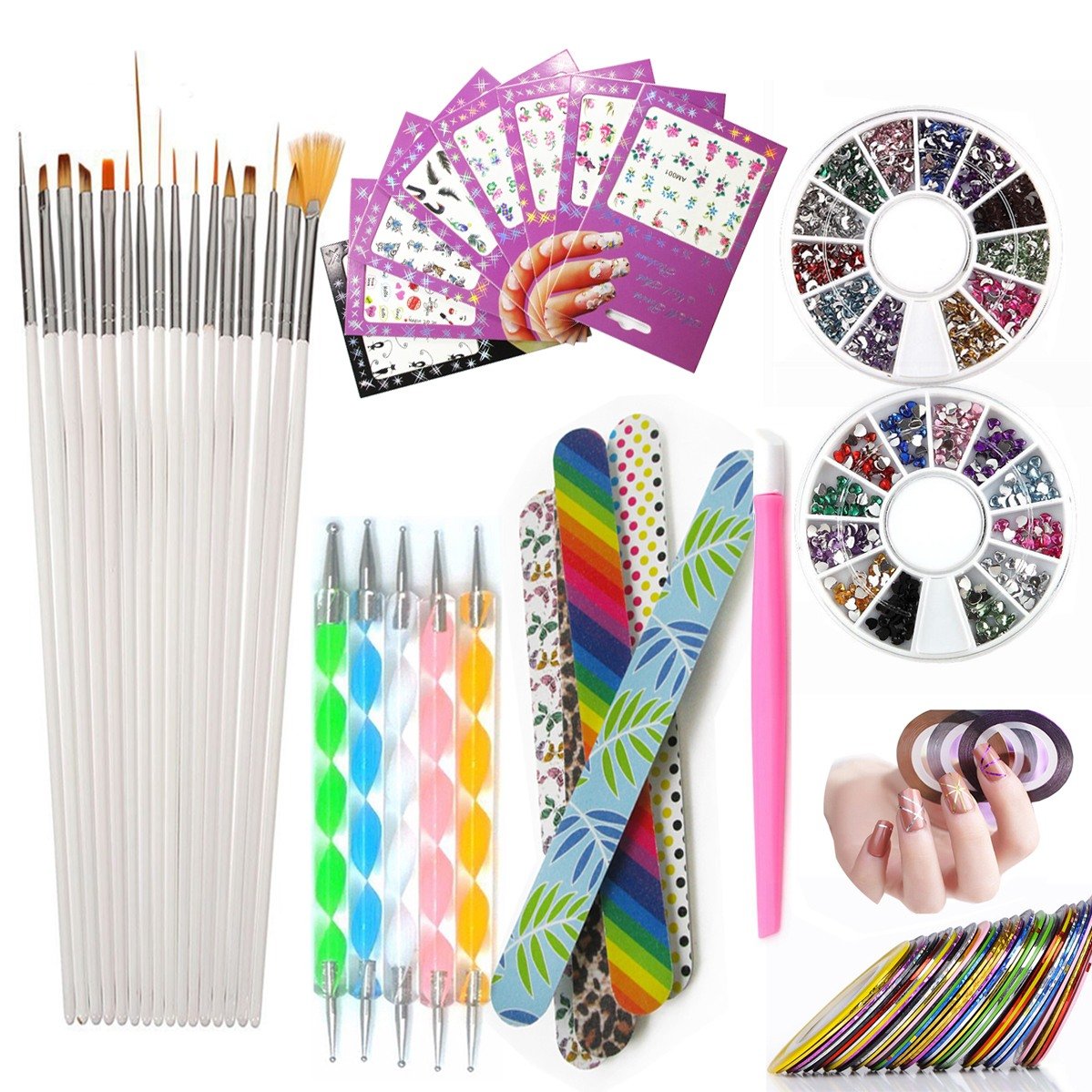 This nail art manicure kit is really going to present you with multiple options and is best for girls and ladies of all ages. Easy to apply and variety is what makes them great.
What you get inside?
15pc nail art brush set
5pc nail dotting pen
8 sheet nail decals
2 wheel nail rhinestone decoration
1pc nail sticker pen
5pc nail file
10 rolls nail striping line
PROS
Huge variety of accessories like brushes and stickers
Very easy to apply even for beginners
CONS
The quality of the brush may not be very impressive
The packaging could have been better
---
4. Vega Pro nail art kit
Everybody has their own unique taste of things and even in nail arts kit, some people may choose a more minimal nail art kit. For those who like a clutter free kit then Vega Pro Nail art kit is the one to have. This is a kit that has been designed specially for professionals but beginners shouldn't shy away from trying as you will learn on the go.
This kit has a lot of rhinestones, 3000 to be exact which means you can make use of them to experiment with different styles and designs. The whole set white wax rhinestones, multiple nail art brushes and double ended dotting tools.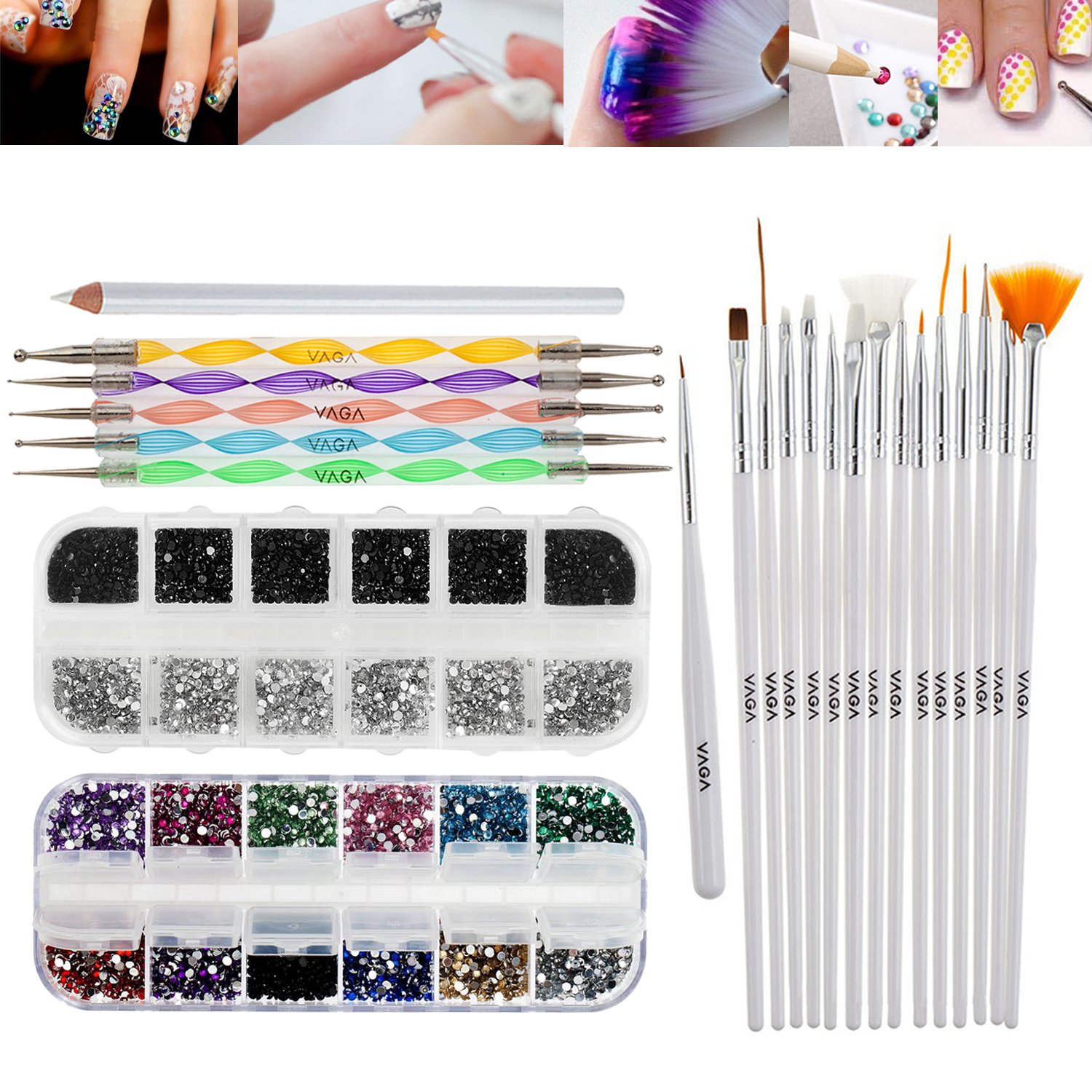 You can explore a lot of different ideas over the web to know how and what new design can be created with this kit, especially when you have so much to play with. In our opinion, though it is made for professionals, everybody can try them out.
What you get inside?
White wax rhinestones picker pencil
2000 2mm round black and silver rhinestones in storage case
3000 rhinestones in mixed colors in storage case
15 nail art brushes with white handles
5 double ended dotting tools with 10 different dot sizes.
PROS
Both Black and Silver colored rhinestones
Very high quality brushes
CONS
---
5. Nail art tools Decoration Manicure Tool kit by LuckForever
Nail art tools decoration kit by luckforever comes with any case or box as the brand says that they aim to provide users with the best kit possible and not an extra piece of package. The kit comes with 16 different nail decals that means you are going to get a lot of variety in the design and the best part is that the kit comes with 5 pieces of nail decoration stones.
The kit also comes with around 5 wheels of nail decoration rhinestones that means you get new styles but also multiple colors. A unique touch is the nail stamping sponge which helps in printing the gradient like polish on your nails.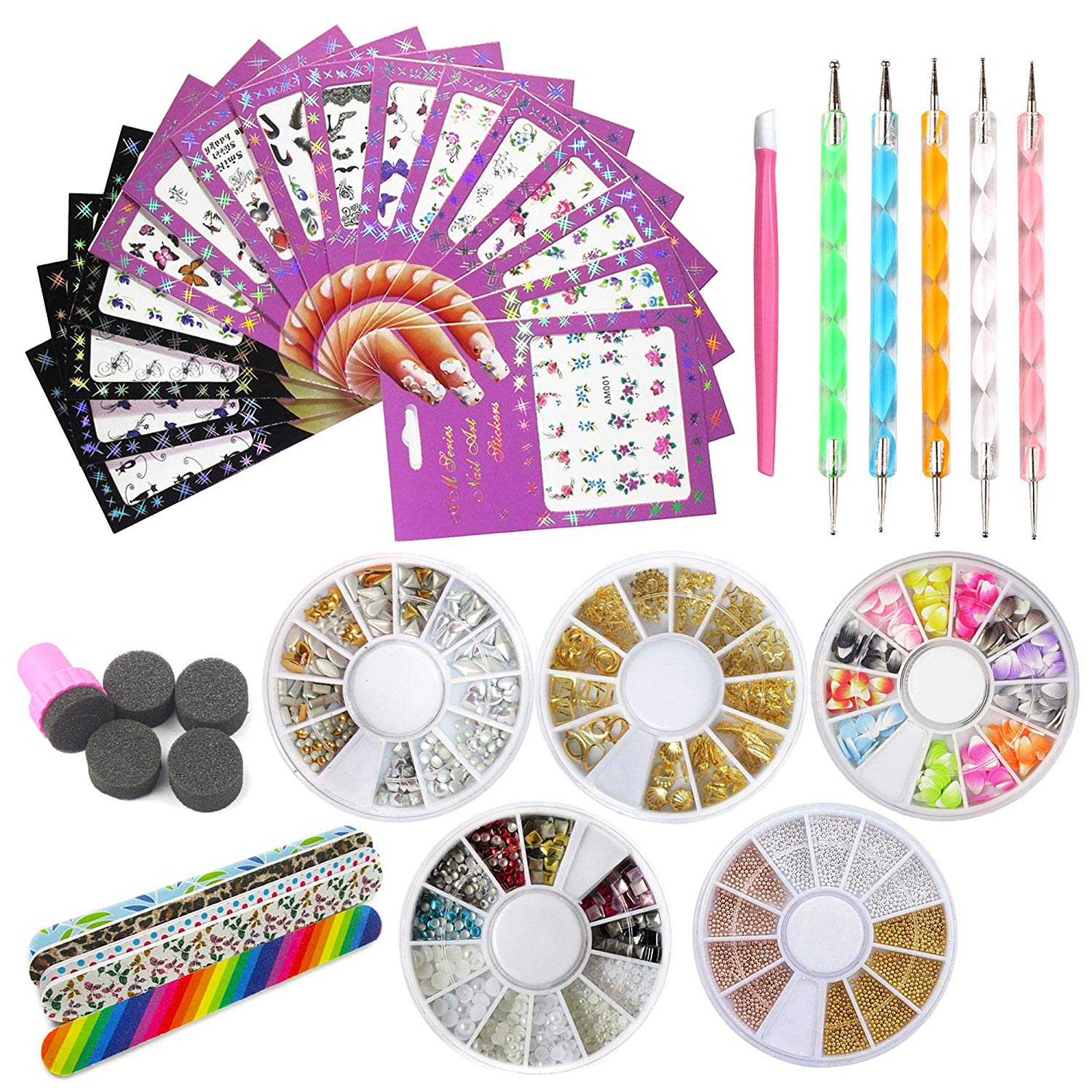 This nail art kit is suitable for all age ranges and gives everyone a good variety in terms of experimenting with new and vibrant designs. Wouldn't you enjoy sporting designs like sheet flower, sheet butterflies, sheet animal feather and chinese flower bird painting.
What you get inside?
16pc x Nail Decals(with different designs)
5pc x Nail Decoration Stones (With different shapes)
5pc/set x Nail Dotting Pen
5Pcs x Nail File Sticks
1Set x Nail Stamp Sponge
1pc x Nail Sticker Smooth Pen
PROS
Comes with a nail stamping sponge
16 different nail decals
Multiple design sheets
CONS
Doesn't come with a proper case
Not portable
---
6. AIFAIFA DIY Nail Art Tools Kit: Best Diy Nail Art Kit
Alfalfa DIY is one of the best diy nail art kit. Not only does it have the best starter kit but also comes in a handy portable packet. You get 5 pcs of nail stickers decal and 5 sheet french tip stickers. As a whole, you will receive a set of 69 different pieces. Applying the rhinestones is also very simple. You just need to apply it on the polished nails while they are sticky and wait for the polish to dry.
Since this nail paint also has french tip stickers, apply base color and let it dry completely. Now take the french tip guides and start by painting the tips by the white nail polish. Once the tips are done, they must be wait so similarly wait for the topcoat to become dry.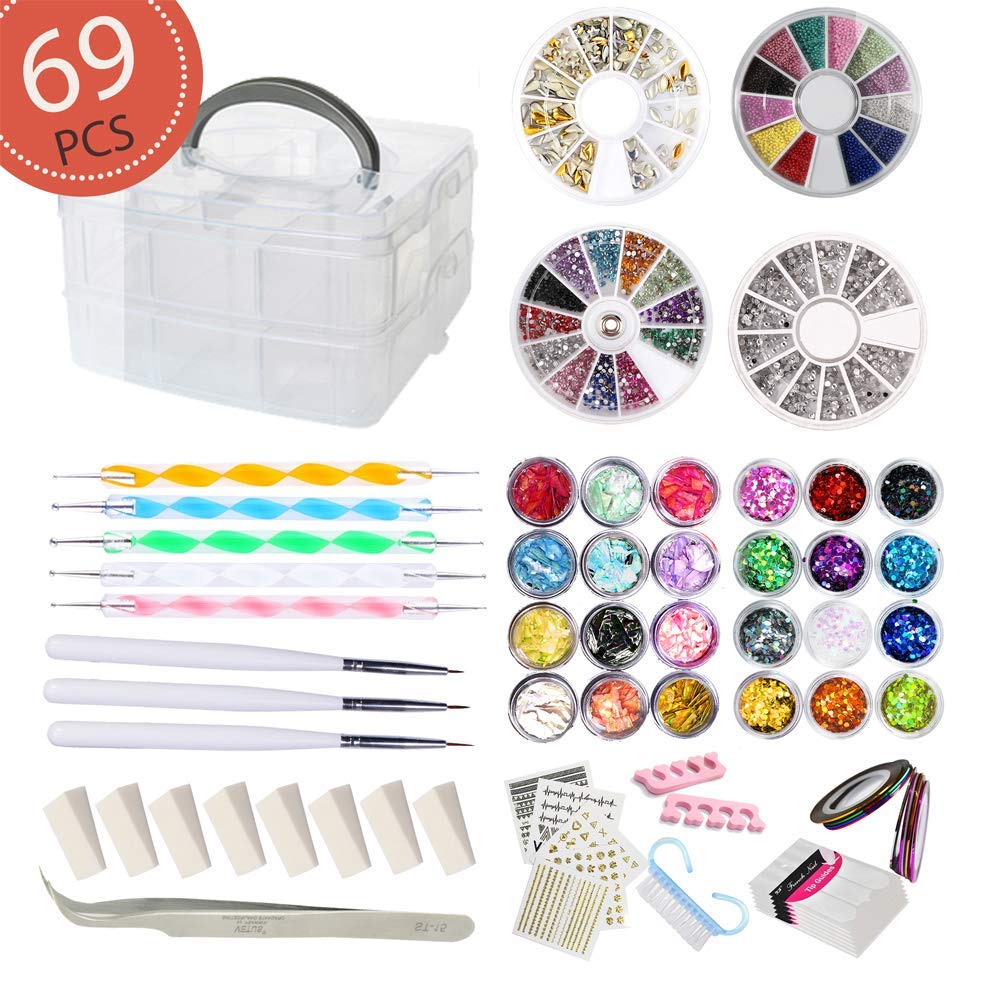 Like others, you get a lot of different nail decor items like hexagonal glitters that can be used to further top the nails once the base is done. How awesome would it be if you were able to use 3D nail art decoration over your nails in shapes such as stars, hearts and water drops.
What you get inside?
Hexagon Glitter* 12 PCS
Flake Chip Foil* 12 PCS
Nail Rhinestones* 4 Packs
12 different colors rhinestones; 12 different colors pearls;
3D nail art decoration with various shapes such as diamonds, stars, hearts and water drop.
PROS
12 pieces of Hexagon glitter which is not provided by all kit
3D nail art decoration kit
Great for starters and professionals
Comes in a compact case
CONS
---
7. Proteove Nail art tools kit
Everyone loves to decorate their nails once in a while, after all who loves to just stay bored with the same old basic colors. The nail art tools kit by Proteove is one that's a complete kit which help you redesign the way you would decorate your nails. The kit comes with everything needed in a kit like painting brushes. Dotting pen, style decals and striping tapes, Irregular 3D rhinestones and much more.
The pen used to draw patterns and design is a two heads oblique pen which can be used to draw 3D artistic effects. Two-heads filbert pen is another great addition used to decorate the nails.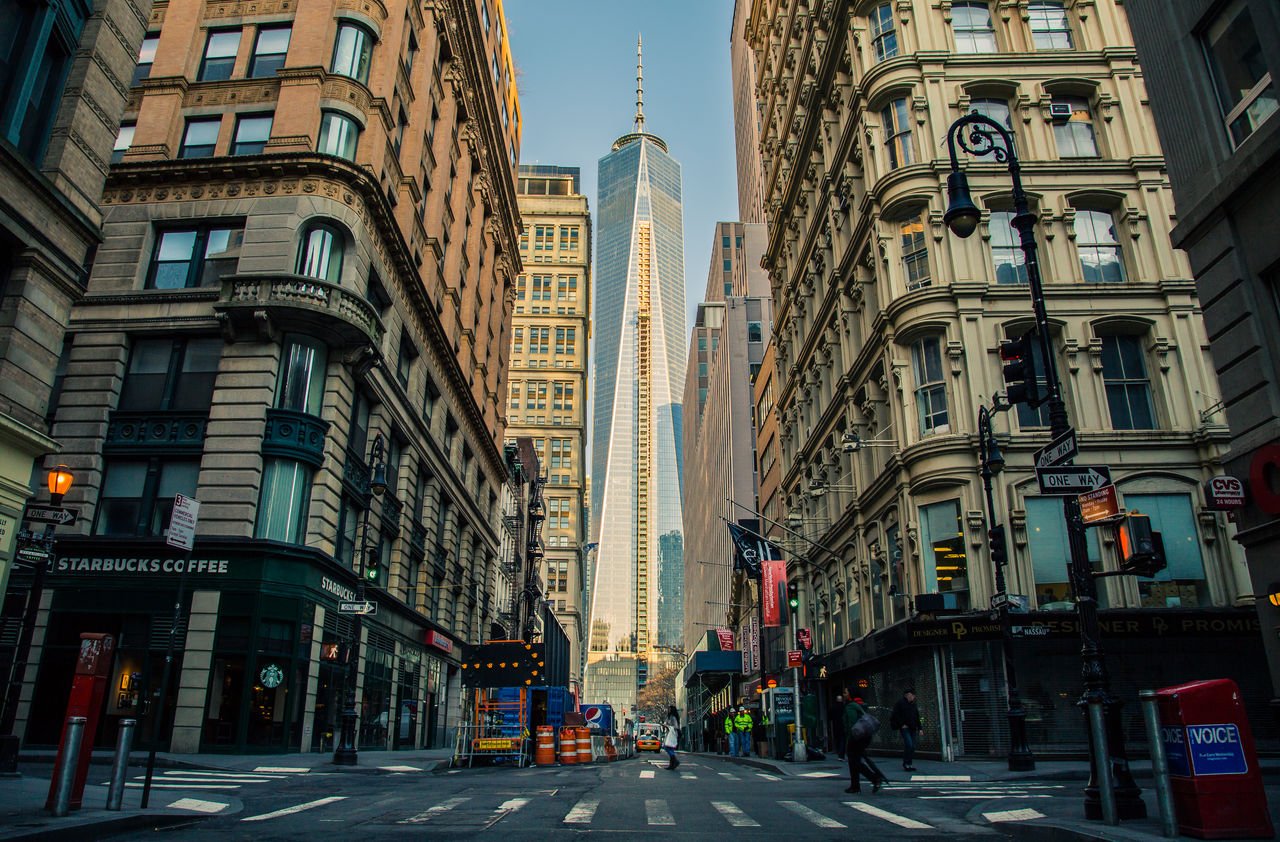 The whole kit also comes with Indian template and striping tapes decoration. You get sponges and these can be used as makeup sponge and to wipe out the nail paint too.
What you get inside?
8 Size Painting Brushes
5 Carving/Dotting Pen
12 Style Decals/Stencils
Striping Tapes
Irregular 3D Rhinestones
Manicure Sponge
PROS
Comes with 3D rhinestones
Works for all size nails
Comes with 12 pieces Indian style waterslide decals
CONS
Doesn't come with any instruction guide
---
8. Graear 4 Boxes Nail art rhinestones
Rhinestones is an essential part of any nail art kit and is another very high quality diy nail art kit. With Graear the experience of using rhinestones becomes even more richer as the kit comes with multiple shaped diamonds and multiple colors of rhinestones that satisfy every imagination of your nail art. The kit has many diamante gems which serve multiple purposes and shall up your game of nail art.
Since these kits are made keeping all kinds of users in mind so you can also try different ways to experiment with whatever comes in this DIY kit. Before you use the large beads over the nails, you need to get a nail glue so you can stick the beads perfectly.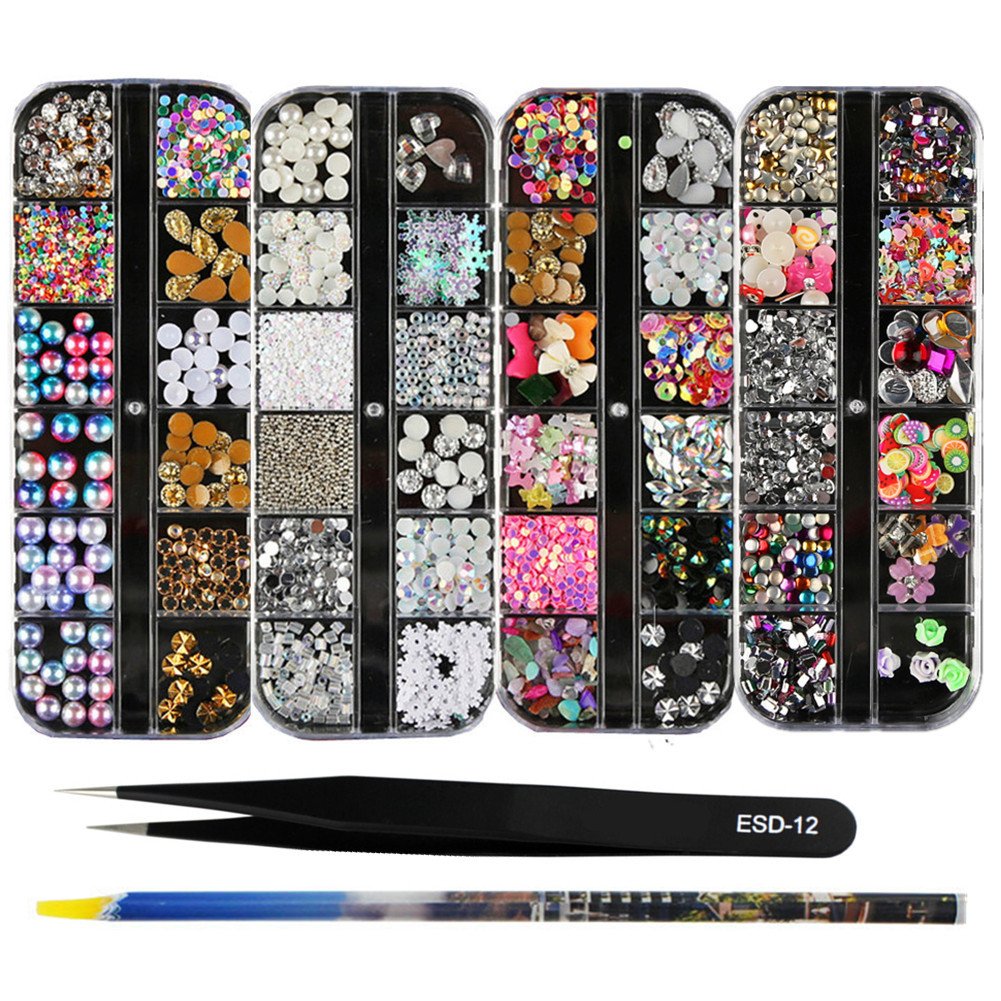 With any kit, the pencil and brush serve multiple purposes like brush helps you with small touches across the contour of your nails while the dotting pencil helps make designs and also place rhinestones. You can also find a ton of youtube videos associated with different nail art kits and take help from there.
What you get inside?
4 Boxes x nail rhinestones decoration
1 x wax dotting pen
1 x Straight Tweezer
PROS
Multiple shaped and colored rhinestones
1 Pc straight tweezer tool kit which is helpful for frequent usage
1 Pc of wax dotting pen that is very helpful
CONS
---
9. Sexy Mix Poly Nail art kit
How about having a nail art kit that also doubles up as a nail get kit. This is one of the finest and the most unique nail art design kit in our list. The Sexy Mix poly nail get kit is an all in one kit that has everything you need to get beautiful decorative nail art shining over your nails including a very unique 12 colored nail diamonds and flowers.
You get a 15ml slip solution which helps the poly nail get smooth so that there is no issue with thickness when you shape using a nail brush. There is a double ended nail brush and a spatula which shall help you remove the nail paint. The kit also has a horseshoe-shaped golden nail extension form that is very helpful to paint your nails.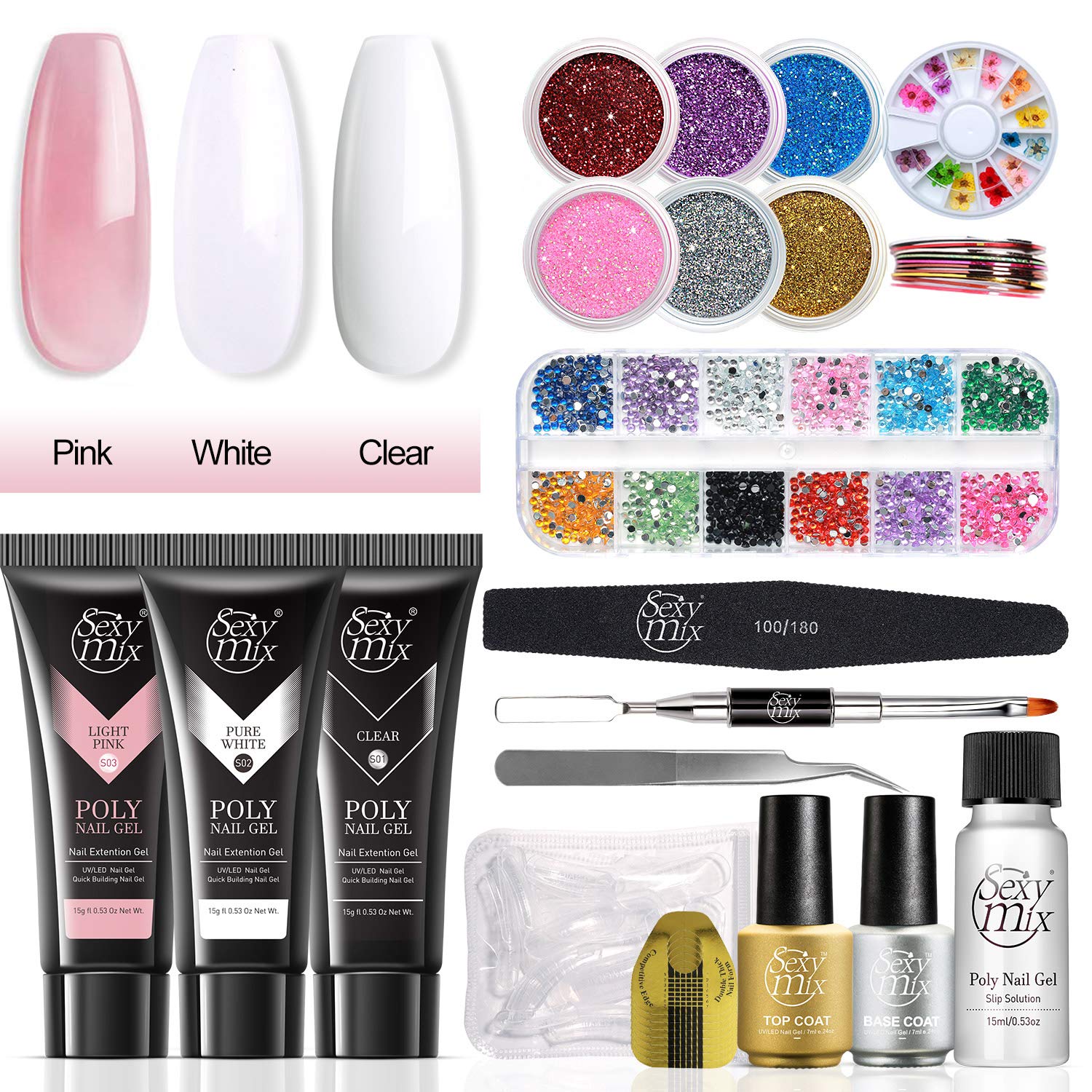 What makes the Sexy mix poly nail art kit unique is that it also provides users with nail gel that can give you a totally unique looking nail art which will make your nail stand out from the rest. You can use dried flowers, nail diamond or anything you wish.
What you get inside?
6 colors glitter powder
12 colors nail diamonds
12 colors dried flowers
10 colors striping tape lines
3 Colors Poly Nail Gel
7ml base gel & 7ml top coat
15ml slip solution
A pack of dual forms, 36 pcs in 12 sizes
Horseshoe-shaped golden nail extension forms 100 pcs
Dual-ended nail brush and spatula
Nail Tweezers
PROS
Comes with a solution for better remove nails
Double ended nail brush and spatula
Dual forms and horseshoe shaped golden nail
Unique Nail gel
CONS
Not suitable for absolute beginners
---
10. Wovte Nail Art Kit
The nail art kit by Wovte is the last one in this list and yet amongst the best. The kit contains high quality dotting tool set. The set has a three pack mixed shaped rhinestones which offer you 3D acrylic nail art works that are sure to shine and make your stand out in the crowd. An important aspect that a lot of people forget is the importance of tweezers.
When using acrylic nails, it gets important how you place these nails. A good quality tweezer helps you easily place these rhinestones to decorate the nails. The kit also gives you multi functional brushes and they are of different purposes like petal brush for drawing leaves and petals, Flat fan brush and oblique angled brush.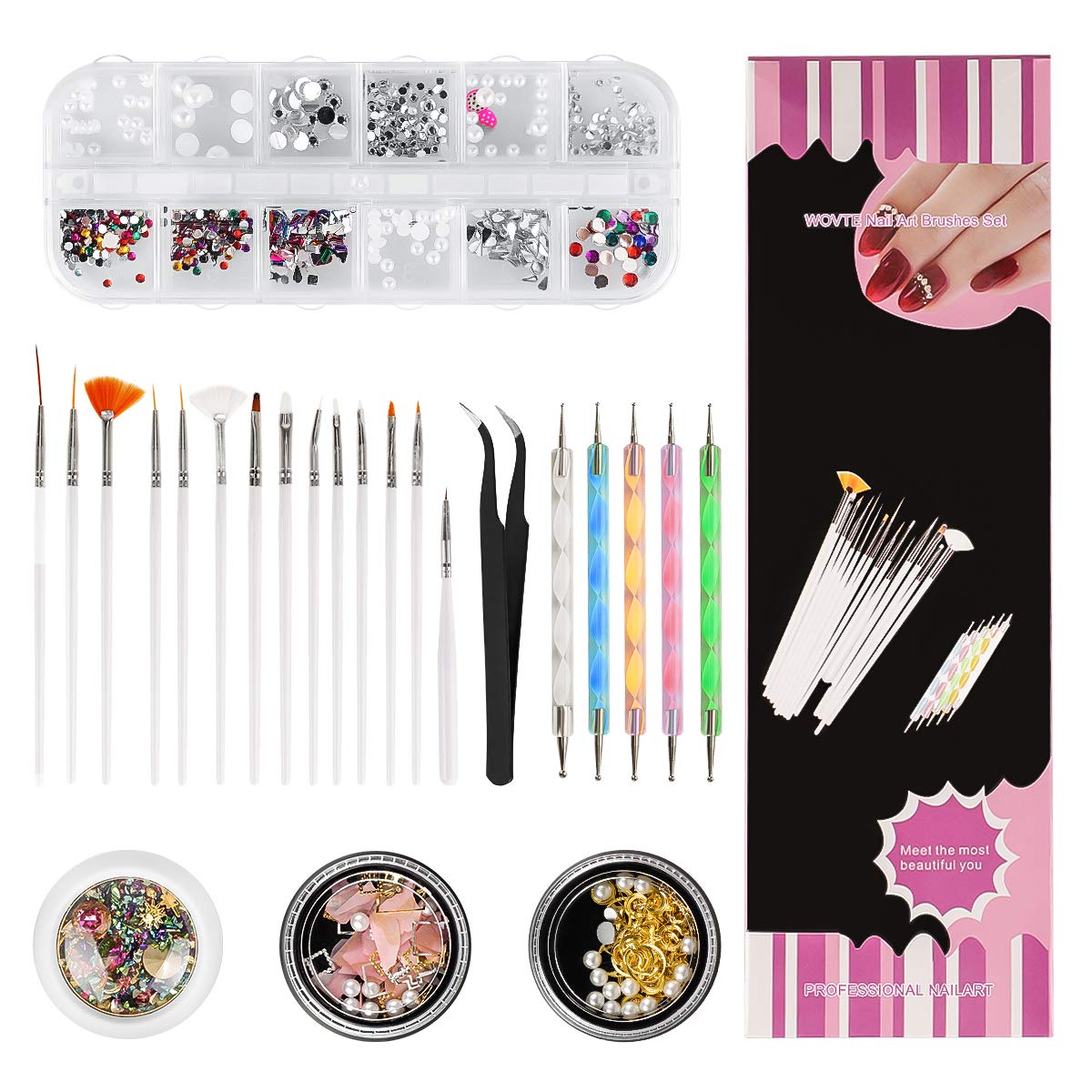 Though this is targeted towards professionals but with the use of social media and youtube, you can find plenty of tutorials to help you with designs and decoration. The nails are easy to use and you and glue them one and off multiple times without any problem.
What you get inside?
15pcs Nail Art Brushes
5pcs 2-way dotting pens
12 Grids Nail Art Rhinestones
2 Pack multicolor and
Various shapes Diamonds Nail Art Decorations
One Tweezers
PROS
High quality dotting set
Tweezer
Multiple shaped diamond nail art decorations
Grid nail art rhinestones
CONS
The case could have been better
Conclusion
Nail art is a very fine hobby that we as girls enjoy. We love to look good and a touch of decor on nails just adds up to our overall appearance. No matter what your age is, you will always love to be a little different every time you are out for an occasion. When choosing, you may come across a lot of option for the best nail art kits and it can be very complex process especially if you are a beginner.
We have made the process easier by telling you what to expect inside each nail art kit. If you are a beginner, we will suggest you go with Pixnor Romeo 5 nail art design kit because it has everything you need and there are enough options to play with. If you are a professional then go for ALFAIFA DIY Nail arts kit because it will give professionals with enough choices to figure out the best design for themselves.