As you draw callers from multiple marketing campaigns – mobile, web, TV, and print – you need to ensure the best customer journey for each of them and growth in your bottom line. Both can be achieved with a call tracking software like Phonexa:
Phonexa's

software for

call tracking

, part of Phonexa's Call Logic, dissects the caller's journey from A-to-Z while directing the caller to the most relevant sales rep, all to make your customers happy and convert more of them. It goes in synergy with other Phonexa products such as LMS Sync, a call tracking software that creates an all-encompassing lead management system.
But you can do much more with call tracking than just improving the quality of calls. For example, you can improve SEO to climb search rankings and generate more inbound calls from search engines.
How do you improve your SEO with call tracking?
First things first, let's start with what call tracking is, and why you need it.
What Is Call Tracking?
Call tracking is collecting information on your callers throughout their customer journey to improve in many business dimensions, from acquisition to distribution, all the way down to conversion and retention. 
https://searchengineland.com/infographic-search-call-tracking-106705 
How Does Call Tracking Work?
Call tracking can be comprised in three steps:
Call Initiation

: the caller dials your phone number.

Call Processing

: the caller is connected to your IVR or live sales rep.

Call Conversion

: your IVR or sales rep converts the caller.
Let's go through the caller's journey from initiation to conversion.
Step 1 – Call Initiation
Whenever a caller finds you – website, online ads, print media, etc. – they dial your unique number (local or international) attributed to this specific marketing campaign, traffic source, or advertisement. Your call tracking software collects your caller's location and connects the latter to your interactive voice response (IVR) or a relevant sales rep.
Types of
Call Tracking Numbers
Local Numbers
International Toll-Free Numbers (1-800)
Vanity Numbers (800-Your-Company-Name)

For local campaigns:

86% of callers

choose local businesses over international

For national and international campaigns

For imprinting the brand's name into the minds of callers to increase brand recognition
A call tracking number can be static and dynamic, with the former used for traditional marketing – billboards, TV, and print media – and the latter used for online ads. For online campaigns, you need dynamic numbers and Dynamic Number Insertion (DNI) to tie a unique phone number to each ad source while complying with the name, address, and phone number (NAP) policy (more on it later).
Step 2 – Call Processing
IVR is arguably the most popular AI technology for call-reliant businesses, as it automates and scales inbound calls. Around 80% of callers appreciate IVR as a tool to handle their requests on the spot or connect them to a relevant sales rep.
Here's an example of a simple IVR system:
https://support.zoom.us/hc/en-us/articles/360038601971-Creating-an-interactive-voice-response-system
IVRs make a huge difference in the customer journey, ranging from simple to multi-level systems that distribute customers according to location, agent availability and/or performance, company size (if you sell call leads), cherry-pick, and other parameters.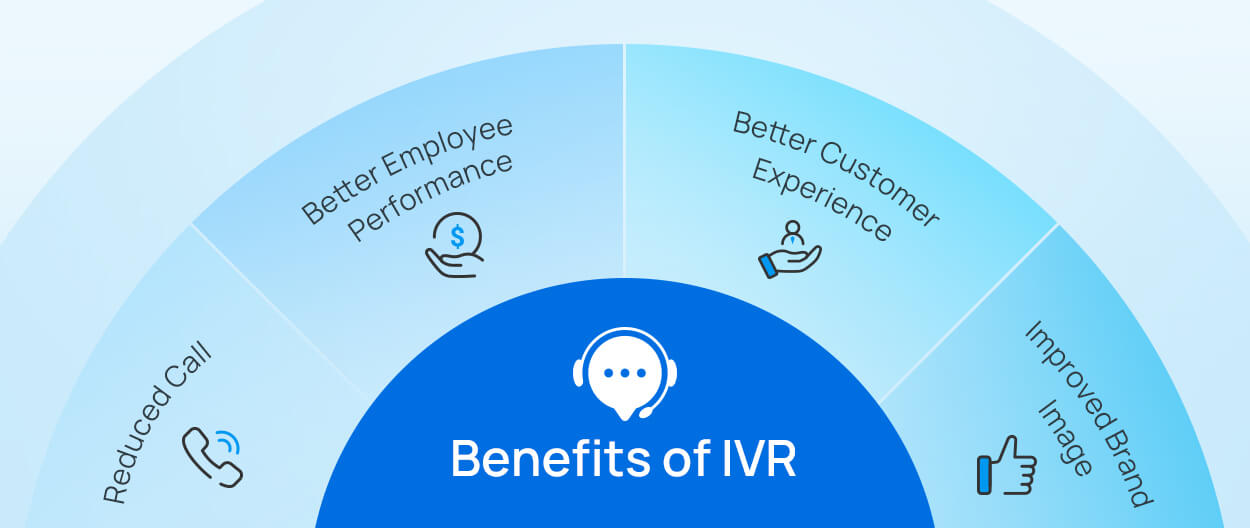 https://www.yeastar.com/blog/ivr-meaning-and-benefits/
By interacting with a caller, IVR collects more data by asking qualifying questions. Depending on how you configure the system, you can draw the caller's demographics, psychographics, location, budget, and other data.
Step 3 – Call Conversion
Integrated with an IVR, an automatic call distributor (ACD) directs the caller to a relevant agent based on the caller's choices, the customer data the system has collected, and the chosen distribution model.
As a live agent takes the call, they already know the caller's needs and wants. As the conversation unfolds, live agents tap into the customer data even more to deliver personalized, context-rich service.
Why You Need Call Tracking
Too many customers prefer good old phone calls to newer forms of interaction (for example, chatbots).
Call tracking maximizes the value of inbound calls while ensuring the best customer journey for your callers, using the data you collect throughout the sales cycle.
Data Tracked throughout the Caller's Journey
| | | | | | |
| --- | --- | --- | --- | --- | --- |
| Demographics | Psychographics | Engagement | On-Site Activity | Location | Call Metrics |
| Age, gender, employment, marital status, race, ethnicity, education, income, etc. | Lifestyle, life choices, social status, behavior, motivation, goals, desires, interests, etc. | Leads by traffic source | Pageviews, slicks, on-page time, etc. | Country, state, city, etc. | Call timestamp, call success, feedback, etc. |
The Value of Call Tracking for SEO
The centerpiece of your online business, your website requires strong SEO to be visible in search engines against numerous local and international competitors. Proper SEO call tracking for SERPs can secure a 10% to 40% click-through rate, granting you many extra calls from search engines.
Here's how call tracking benefits SEO:
Improves website optimization

.

SEO call tracking

makes it possible to dissect the path to your website pages with your call tracking numbers, whether a landing page, blog page, or else. Having the keywords that triggered the call, the search engines used, and the comparison reports, an integral part of up-to-date

call tracking software

, you can reveal relevant and irrelevant keywords. Likewise, you can understand whether a particular call was triggered via Google Business Profile or organic searches.

Increases content value

. The ultimate goal of SEO is to make your business relevant to what your future customers are looking for. While this can be done in several ways – via generic keywords, branded keywords, customer-defining keywords, or a combination of approaches – tracking customers is the best way to know what content they crave.

Helps focus on profitable keywords

. Evaluating the real value of SEO for your business – in other words, the profitability of each keyword – helps create the right balance between transactional and non-transactional keywords across your campaigns.
Conclusion: Call Tracking and SEO for the Win
Using call tracking for local SEO or international customers is one of the best ideas to maximize the value of your call tracking software, drawing more callers from organic search and converting most of them. At the same time, to synergize call tracking and SEO, it's best to ensure your compliance with Google by using Dynamic Number Inserting.