To the people who question caring for your hair that important, here is the answer. "Invest in your hair. It's the crown you never take off." There are a minimum of 100 brands available in the market for hair care. From oils to shampoo and conditioners to gels. Picking the right hair care products will make sure your hair remains strong and healthy. 
When you walk to the store to purchase shampoo, consider the following three factors. 
Your hair is not the same as anyone else's. Identify your problem and choose a shampoo that meets your requirements
Check out for a shampoo with a nice fragrance. This has a major share in creating an impression on you. 
Look out for shampoos that are free from parabens and sulphates. These two notoriously harmful chemicals could harm your hair over the long run. 
Best Shampoos For Black Men 2022
1. Jack Black – True Volume thickening shampoo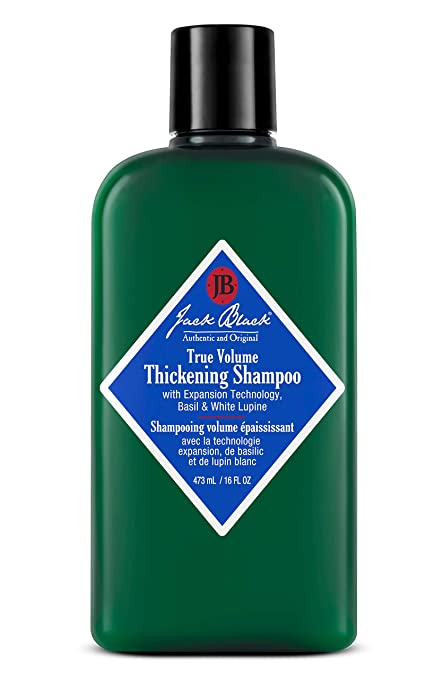 The Jack Balck true volume thickening shampoo is created exclusively from a blend of botanicals. The metabolites from these plants, with their expansion technology, keep your hair follicles strong and healthy. It clears off dirt and dandruff from your hair and keeps it dark and lustrous. The complex combination of creatinine and wheat protein thickens your hair follicles from the scalp and makes sure your hair looks bulky and voluminous. The presence of white lupine protein keeps your scalp healthy. Apart from this, tea tree oil, basil, sunflower seed oil and sage leaf extract have anti-inflammatory and antibacterial effects. The presence of lavender in this shampoo, adds a refreshing fragrance to your hair. 
2. Scotch Porter Hydrating hair wash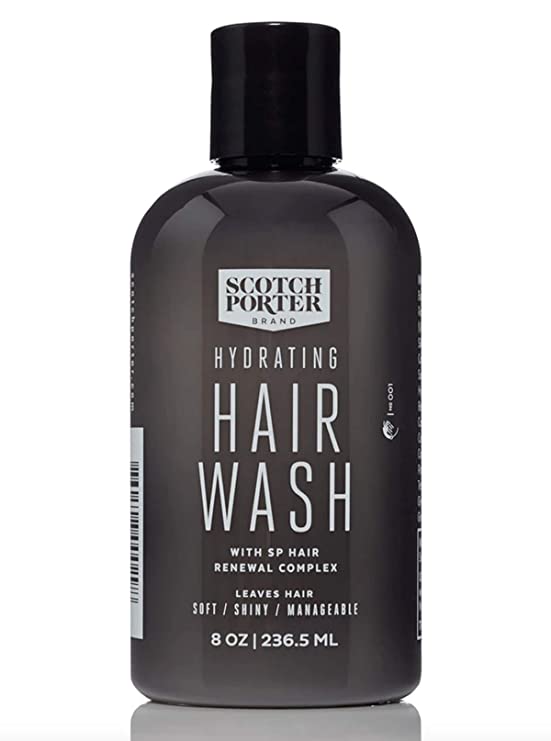 The Scotch Porter hydrating hair wash, moisturizes your scalp, adding soft and silky texture to your hair. Made from fresh botanicals like Marshmallow root, Burdock root and Nettle leaf, that protects your scalp from drying out and nourishes your follicles for healthy-looking hair. The chamomile extract adds a subtle and refreshing smell to the shampoo. This hair wash is also filled with the goodness of Vitamin B-8, silk amino acids and much more. This hydrating hair wash is free from sulphates that might leave your hair frizzy and dry. There are no harmful ingredients like Parabens, silicones or petroleum. The SP hair renewal complex nourishes your scalp and minute hair follicles promoting hair growth. 
3. Pura D'or Biotin Anti-thinning shampoo and conditioner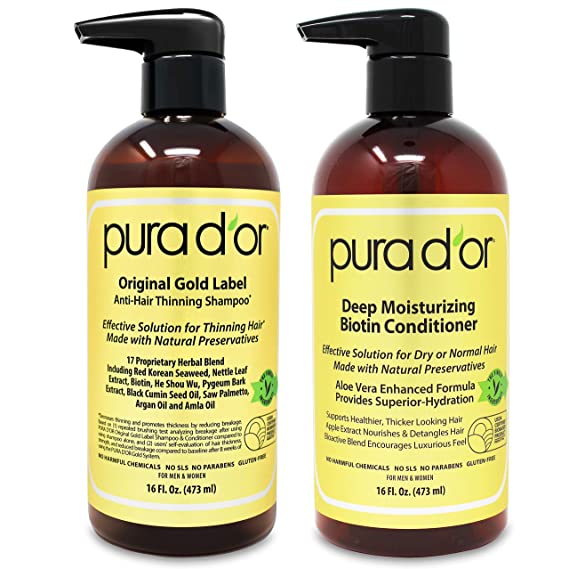 If you feel like your hair is weak and thinning, then the best and most recommended product on Amazon is the Pura D'or Biotin anti-thinning shampoo and conditioner. The goodness of over 15 herbs is present in this product. Protect your hair from dryness, brittle strands, dry scalp and dandruff. The Biotin and Argan Oil protects your hair from any further damage and promotes hair growth from new follicles. This shampoo and conditioner combo is also enriched with vitamins and hair thickening factors. This easy to use the product also comes with a refund if you don't find the product satisfactory. 
4. SheaMoisture Manuka Honey and Mafura Oil- Intensive hydration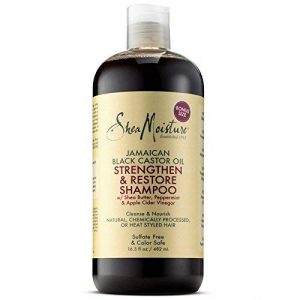 SheaMoisture is the ultimate hair care product for all your hair problems. The Mafura and Baobab oil add an amazing shine to your hair.  Shea butter reduces the frizz and adds a silky and soft texture to your hair. It also hydrates your hair and leaves it moisturized throughout the day. The Manuka Honey is a rich source of vitamins essential for hair growth. This is why the product is a one-perfect solution to all your hair problems. 

5. Hydratherma Naturals Moisturizing Boosting Shampoo

Hydratherma Moisturizing shampoo is best suited for those suffering from brittle hair. Rejuvenate your broken and dull hair with Hydratherma. The exclusive moisture locking property of this shampoo, leaves your scalp hydrated and stimulates hair follicles to rejuvenate and grow. This moisturizing property also reduces dry and itchy scalp. Also, this helps you get rid of dandruff by regulating the secretions of sebaceous glands in the scalp. 
6. Neutrogena T/Gel Therapeutic Shampoo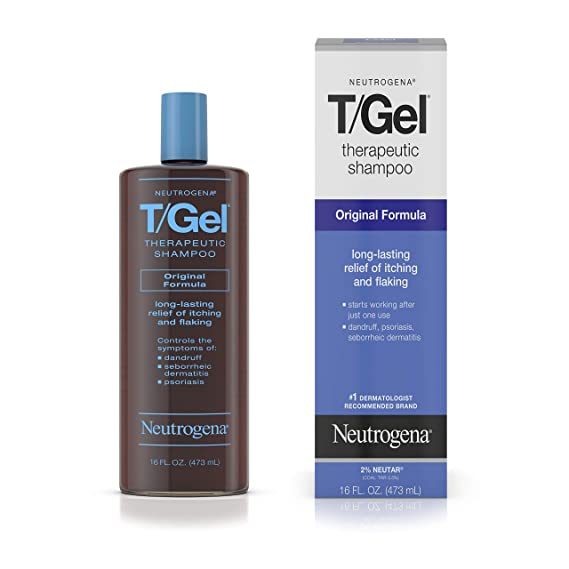 The Neutrogena T Therapeutic shampoo is the best solution in the market for dry and damaged hair types. If you find your scalp itchy and flaky, then Neutrogena T therapeutic shampoo would repair your scalp from drying out and revive your hair follicles. The coal tar in this shampoo cleans your hair and scalp thoroughly. The shampoo is tested and recommended by dermatologists for dandruff, psoriasis and Seborrheic dermatitis. Neutar, an ingredient, prevents excessive scalp growth and inflammation. 
7. OGX Renewing Moroccan Shampoo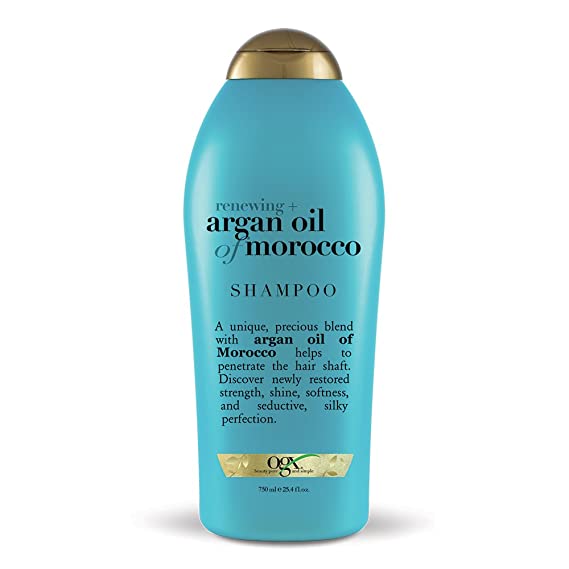 The argan oil present in this product reaches the deeper layers of the scalp and protects your hair. The argan oil also softens your hair giving it a shiny and silky look. The shampoo is designed to exclusively protect you from UV damage. With this amazing shampoo, you can style your hair the way you want without damaging it. The product is made from natural ingredients and is free from sulfates and parabens. The OGX renewing Moroccan shampoo is suited for all hair types from damage to straight. Add a glossy look to your hair after every cleanse with the OGX renewing Moroccan Shampoo. 
8. Tea tree Special Shampoo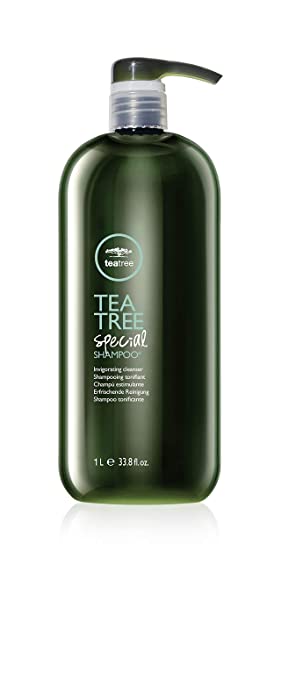 The tea tree special shampoo is designed exclusively to cleanse your hair. The goodness of tea tree oil, peppermint and lavender oil penetrates through the scalp giving an amazing smell to your hair. The natural botanicals in the shampoo nourish your hair and strengthen your hair follicles. Give your hair the absolute care and nourishment with the tea tree special shampoo. 
9. Degrease Daily Shampoo 
The degreased daily shampoo is the best choice for an oily scalp. The lemon clarifying shampoo helps to wash away excess oil and grease in the scalp. It also locks moisture to give your hair a healthy and shiny look. Made with peach kernel oil, jojoba oil and enriched with pro-vitamin B5 locks moisture and hydrates your hair for a naturally shiny hair. Rosemary oil strengthens your hair from the roots. This prevents hair loss and promotes the growth of new hair. The shampoo has gentle and nourishing effects on your hair. The additional benefits of basil oil include hair regrowth and also helps you with greying hair. Whatever your hair type is, the degrease daily shampoo will keep your hair soft, smooth and silky.
10. Aveda Damage Remedy Shampoo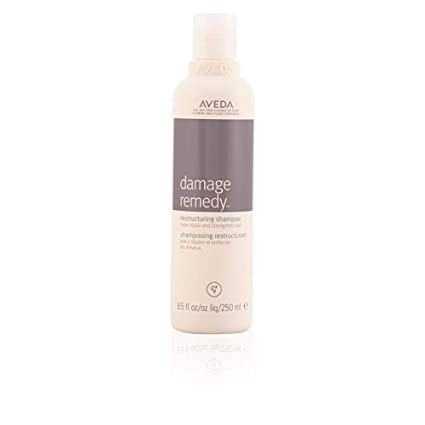 If your hair is damaged and requires immediate care, then Aveda Damage remedy shampoo is here to rescue you. Filled with the goodness of coconut extracts and babassu, the shampoo nourishes your scalp and hair. Rejuvenate your lifeless hair with the goodness of natural ingredients. Aveda damage remedy shampoo can mend your hair no matter what condition it is in right now. Give your hair a shinier, smoother and an extremely new look with Aveda damage remedy shampoo. 
11. Brickell Men's daily strengthening shampoo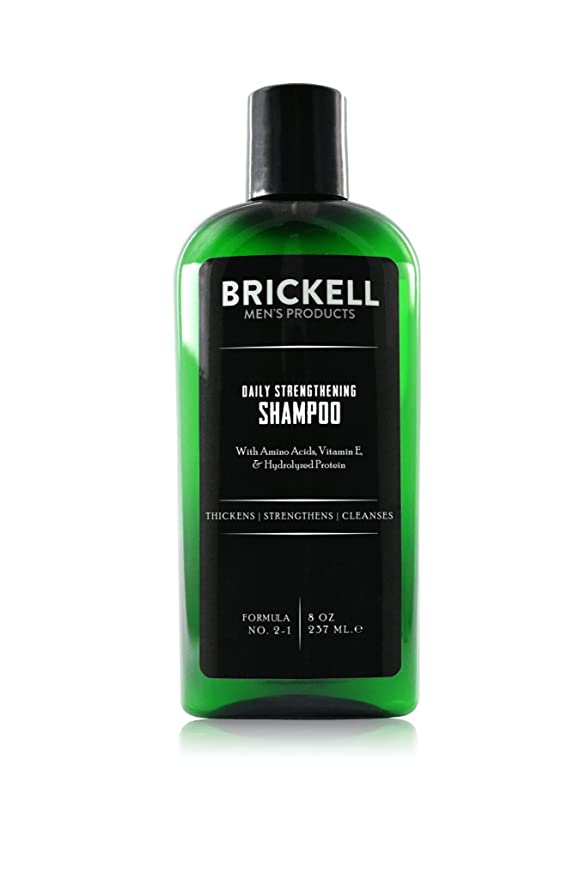 Made with absolutely natural ingredients, the Brickell Men's daily strengthening shampoo suits men of any age. Ingredients like Aloe vera, tea tree oil and peppermint nourishes your hair and also adds a fresh scent to your hair. Peppermint stimulates your scalp and promotes new hair growth. It also eliminates dandruff problems. The presence of Vitamin E in the shampoo minimizes hair loss. The amino acids and hydrolyzed proteins thicken your hair and make it look shinier and smooth.  The shampoo suits all hair types and is also safe for colour treated hair. The goodness of all-natural ingredients makes it one of the most loved shampoos among men.

Things to Consider When Buying the Best Shampoo for Black Men
When it comes to hair grooming, there are countless brands and products available in the market today. Are you stuck with selecting the best shampoo for your hair? Don't worry. Here is a list of things that you need to consider before purchasing a shampoo. 
1. Consider your scalp
Your scalp is the root from which your hair strands emerge. Most people consider hair types while buying shampoos. But they fail to notice the type of scalp they have. There are cases where you may have an oily scalp and dry hair. In such a situation, you need to pick products that can mend your oily scalp. Correcting issues in your scalp help in reducing hair fall, promoting hair growth and also increases the volume of your hair. 
2. The pH of your scalp
The scalp, unlike the rest of your hair, has a unique pH level. This is somewhere around 5. If you pick a shampoo, that does not match the pH of your scalp, there is every chance that your hair strands can turn brittle. Ultimately your hair would look thin and lifeless. While purchasing shampoos, choose the ones that have pH mentioned on its labels.
3. Frequency of use
If you are a person who washes your hair every day, then pick milder shampoos. Everyday shampoos are available that contain milder ingredients. On the other hand, there are shampoos with stronger contents. You can use these shampoos twice a week for healthier hair. 
4. Check the contents
Always check the label for the ingredients. Several brands of shampoos today contain harmful chemicals like Parabens and Sulphates. These chemicals give pleasing results initially. But over the long run, it can greatly damage your hair. So choose shampoos made from natural ingredients for better hair health. 
5. Understand your hair's needs
There are shampoos available to suit every special need. You may have straight or curly or dry or oily hair. Remember your hair type while choosing the shampoo. Never pick a shampoo for its flavour or colour. At times a shampoo that smells well, can cause excessive hair loss. so, choose wisely. 
6. Obey the instructions
Normally all shampoo containers have instructions in their package. Try to stick to the instructions mentioned. If the label reads, "Use twice a week", then do so. Because sometimes, frequent usage of strong shampoos can result in an itchy scalp, dryness, hair fall or even rashes. When a manufacturer adds a label, he does it after dermatological testing, hence it is better to stick to those instructions. 
What is your hair type?
The straights 
This is the most simple and common type of hair among people. In this type, the hair strands lie flat from the scalp till the tip. There are no waves or curls. This hair type is usually soft and naturally, there is excessive oil secretion in the scalp.
The waves 
This is an intermediate hair type between straight and curls. The hair strands have slight curls at the lower part of the hair. The advantage of having wavy hair is that it suits most hairstyles. Each hair strand is thick and this type of hair usually looks rough when compared to the straight hair.
The curls 
One can simply identify curly hair with the "S" pattern that is observed in the strands. No matter how much you straighten, this type of hair usually curls back. The hair is denser when compared to that of straight and wavy hair types. One major problem with this hair type is that it gets tangled quickly. Maintaining this type of hair requires special hair grooming products. 
Kinky hair 
This is the curliest type of hair and is also called as afro-textured hair. This is the hair type that is prominent among black males. This hair type is prone to damage and breakage if not taken care. The curls resemble the letter, "Z" because of the short hair strands. The curls in case of kinky hair are extremely tight. The simplest way to identify if you have a kinky hair is to stand 3 metres away from a mirror and spot the curls. If you cannot spot individual curls and you find dense and clumped hair strands then you have a kinky hair type.  
You must understand the type of hair you have. This is because a few hair types require more attention when compared to others. Identifying your hair type can help you choose products that would best suit you. 
FAQs
1. How frequently should I use shampoo for my hair?
Cut down the number of times you use shampoo. Most shampoos in the market contain Sodium Lauryl Sulphate, a chemical that removes the natural oil secreted by the sebum in your scalp. Using shampoos frequently can make your hair feel dry and lifeless. Use it twice or thrice a week to make sure your hair has a glossy and shiny look. 
2. Which hairstyle to choose?
There are multiple cuts you can choose from to groom your hair. It is recommended that you pick a hairstyle that involves less maintenance. Most black men have their hair shaved as it involves low maintenance. You can check out this guide for hairstyles you can choose for your hair type. Not all hairstyles suit all hair types. Choose wisely from the options to have healthier hair. 
3. What should I do if I have coarse and dry hair?
This is a problem faced by most black men. And the best thing to do in this case is to moisturize your hair. Moisturizing is essential because the shampoo you use removes all the natural oil secretions from your hair leaving it dry. At times this can also lead to an itchy scalp or dandruff problems. You can use a conditioner or hydrating gels that are available to moisturize your hair. A leave-in conditioner has an additional benefit of softening your hair along with moisturizing. Check out for products containing natural ingredients like coconut oil, jojoba oil, olive oil and sweet almond oil. These natural ingredients help you hydrate your hair without much side effects. 
4. What is the right product for my hair?
There are several hair types and even more products in stores. But remember there are a few products that you need to eliminate for healthier hair. This includes parabens and sulphates. Any hair care product containing these two chemical substances is harmful to your hair in the long run. Try to avoid them as much as possible. Go for products that are made from natural ingredients. Apart from these two, also avoid shampoos or conditioners that contain mineral oil, petroleum, propylene glycol and formaldehyde. You can also use pomades, balms and styling creams to set your hair. Using water-based pomades is more preferable over oil-based pomades as it eliminates the risk of dandruff. 
Conclusion
Though there are several shampoo options for black men to groom their hair, the two most preferred shampoos in the market now are
The scotch and porter hydrating hair wash 
Tea tree special shampoo 
These two products have shown great results when used. These shampoos reduce hair fall and also stimulate the growth of new hair cells. Not just this, they add a glossy look, which is a sign of healthy hair. This shampoo is best suited for people who are suffering from hair damage and dandruff. Made with natural ingredients they have very low or no side effects. 
There are multiple options when it comes to picking the best shampoo for black men. It is better if you choose botanicals-based products. Also, try analysing your hair and scalp type before choosing a hair care product. This can reduce damage and help you maintain healthy and happy hair.