You can see durags making a comeback as celebs are serving us iconic looks at various galas. But durags don't just make a fashion statement; they are worn to give your hair an amazing texture of waves. Find the best durag for waves as we mention our top 10 picks in this article. 
TOP 10 DURAG FOR WAVES
On Amazon, you will find a plethora of durags which will lead to a lot of confusion. Here we bring you a scrupulous list of durags curated to provide best care for your waves. Following are our top 10 picks from Amazon.
1. 3PCS Silky Durags Pack for Men Waves [Most Popular Choice]
Probably the most reviewed durags on Amazon, these Royben's durags come with a free wave cap! Wave caps help to maintain the intactness of the waves and this one fits all head sizes. The material is satin, looks shiny and feels soft as silk. These are a little expensive of a set of three, but considering the durability and comfort of these durags, the price seems pretty decent. These come in a wider range of colours and designs and are bleed-proof. The durags too fit all head sizes and the straps are strong and secured properly.
Pros:
Suitable for all head sizes 
Decent price 
Maximum durability
Material feels comfortable
Free wave cap
Lots of colour variants
Cons:
The wave cap might cause discomfort for some people
2. Tatuo 2 Pieces Velvet Durag and 2 Pieces Silky Soft Durag
This product consists of two kinds of durags- two of them are made of velvet and the other two are made out of a silk-like material. The velvet ones are a little thicker than the silky ones but both the materials are soft and breathable. The stitches on these durags are on the outside; meaning there won't be any lines on your waves.
The scarf is big enough to cover the waves and straps aren't a problem too. The straps are wide and long enough to be coiled twice around the head. The size of this durag is not an issue if you're using them for your waves; for people with dreads, coverage was gonna be an inconvenience. But as the comments suggest, people with 7.5+ hat size might face difficulty tying these around your head. Also they're available in several different colours. 
Pros:
Relevant price
Amazing durability
Great material that looks good as well as feels good
Straps are strong and long enough
Good coverage
Cons:
Won't fit people with bigger hat sizes (7.5+)
The variety of colours is limited as compared to other products
3. Veeta Superior Velvet Durags
These durags come as single units and are quite expensive as velvet ones usually have hefty prices. Quality wise, these durags have a great material which is less likely to get rugged any time soon. The durags are big enough to cover any size of head and the straps are proportionally long enough to be tied properly round the head. The stitches won't cause any inconvenience as they are on the outside. These velvety smooth durags will suit your waves the best. 
Pros:
Great quality material
Amazing coverage and fits all sizes
Stitches on the outside
Long straps
Many colour options available
Cons:
4. Dream Deluxe Du-Rag
This is one of the most inexpensive durag on this list and gets the job done just right. This durag is made out of polyester and has a little bit of sheen. Feels as comfortable as the satin ones, plus they are surprisingly durable. Some people might have to use two of them if they have coarse and unmanageable hair. There are no colour options available. But if you are okay with a single colour, then this durag might be a great choice for your waves.
Pros:
Durable 
Inexpensive
Comfortable to wear
Good coverage and long straps
Cons:
No variants available
Polyester looks a little cheap
Not a fashionable product
Problematic for coarse hair
5. Military Camouflage Premium Silky Durags with Long Tail
These quality durags are suitable for all hair types and are ideal for getting beautiful waves. These military camouflage designed durags are very attractive and are brought by many wavers. The silky material feels very supple on the hair, preventing any kind of itching or discomfort. The durags give great coverage and are suitable for all hair types. The straps and tail are pretty long as compared to other products, which is preferred by a lot of wavers. There are several colour options available too.
Pros:
Material is very soft and breathable
Great coverage
Long straps
Suitable for all hair types
Affordable price
Other colours available
Cons:
6. HADM Durag and Bonnet Set with Silky & Durag
Another durag for the aesthetics! This iridescent durag might look like it is made out of polyester but astoundingly, they are made out of the softest satin which feel so smooth on your waves. A bonnet comes along with the durag and hence the price is also reasonable. Buyers claim these durags to be more comfortable than ever and they're even suitable for kids. They provide amazing coverage and the straps are long enough to be tied comfortably around the head without causing headaches. 
Pros:
Very affordable
Comes as a set along with a bonnet
Great coverage
Long straps
Durable
Reasonable price
More beautiful designs available
Cons:
7. 4 Pack Men's Women's Silk Accent Durag Cap
This product comes as a pack of four and at a very affordable price. You won't have to replace these often as the durability is par excellence. This product is only available in one other colour option. The straps are big enough to tie the durag perfectly on the waves and the long tail goes down below the mane giving better coverage to the waves. 
Pros:
Quite affordable
Big straps
Breathable material
Great coverage with long tail
Amazing durability
Cons:
Only one other variant available
8. Snatched Flames Velvet Du-Rag-Premium Quality
Snatched Flames is famous for making aesthetic durags and they never let us down. This lovely looking durag isn't just all about the looks; the soft, velvety material never feels irritating and covers the waves properly even if you have coarse hair texture. The stitching is on the outside so it doesn't leave any lines on your hair. Both men and women are seen using these durags because of the pleasing look and feel. For some buyers, this durag might seem a little expensive as it comes as a single unit only. But provided all the benefits this durag gives to your waves, this product is definitely something you'd want to invest in.
Pros:
Aesthetic design
Thick but soft velvety material
Durable
Inner surface is very smooth
Excellent coverage
Long straps
Lots of colour variants to choose from
Cons:
9. Durags for Men Silk Durag for Men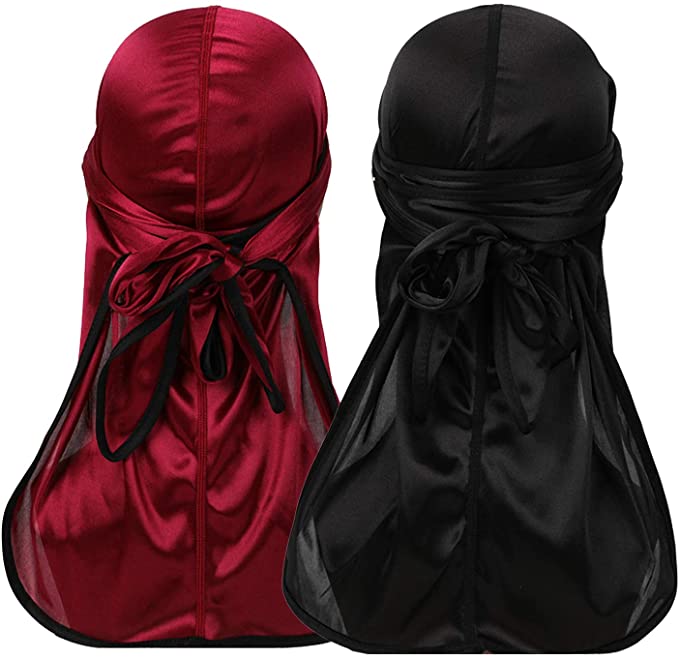 Often you'll find durags that don't have a long enough tail and that's an issue for a lot of buyers. If you are one of those wavers, this pack of two durags will definitely work for you. Not only the tail but the straps are long too, which makes them suitable for any head sizes. The material is soft satin and is extremely smooth and breathable. The insides of the durag are smooth, comfortable and doesn't slip off if worn while sleeping, giving Maximum benefit to the waves. there aren't a lot colour variations but the red and black durags look stunning. These also come in packs of three so you have a choice of quantity.
Pros:
Long tail gives better coverage
Soft and breathable material
Long straps
Extremely durable
Stitches on the outside
Affordable price
Cons:
No colour options available
10. Wavebuilder Seamless Durag- Black
This product is last on this list but here to catch all your attention. The durability of this product to start with; certain buyers claim that they have been using these for 3+ years straight and still look flawless. This durag is made of polyester and has a matte black colour with no colour options. The stitching is on the outside so it doesn't leave any lines.The straps are sturdy and long and the scarf is big enough to cover the head.  The material doesn't have any sheen but it is breathable, plus stretchable. There are all ages of people buying this item; there seem to be even women buying these durags! 
Pros:
Unbeaten durability
Good quality material
Very affordable price
Stitches are on the outside
Cons:
No colour variants available
History of Durag
The history of durags dates back to the 1930s, when they were used by women to African American women to protect their hairstyles. Today, despite frequent debates concerning who can and cannot wear durags, many people freely wear durags as a fashionable clothing item, regardless of whether they are black or not. 
Initially, durags were worn to secure hairstyles like waves, dreadlocks and cornrows as they would keep the hair in place. But later on, they were worn as an accessory by non-black people, although their hair type doesn't need them to use durags. Today, even men are prominently seen wearing durags. 90s hip-hop artists like Jay-Z, and Cam'ron had brought them back into trend. 
What is a Durag? How does it benefit my waves?
A durag is a piece of cloth, which is made of materials like satin, velvet, etc. that is worn over the hair to help keep waves in place. It is similar to a scarf, with two long straps to tie and secure the durag around your head.Some people wear their durags every day, all day long; even while they go to sleep. Why? To get waves, first of all, you need to comb your hair from time to time in a single direction. The durag will prevent those waves from unfurling into different directions and maintain the shape. 
Wearing a durag will also keep you from touching your hair, which can possibly ruin your waves. If your waves are covered with a durag, wearing any sort of caps or helmets won't spoil your waves. If you want better results, wearing a durag when you sleep is the key. You might be familiar with the use of silk pillowcases to keep hair free from frizz and breakage. Wearing a durag will serve the same role- reduce friction and thus minimize frizz and breakage. They keep your waves moisturized and give them a sleek look. Durags have one more benefit; they will hold the product on your hair, giving maximum advantage to your hair. 
Myths about Durags
Durags are considered to be the best for your hair when it comes to waves. Yet there are several myths about durags that usually circulate around even offline. Let's take a look at some of these myths and work out the reality of the facts. 
1. Durags hinder hair growth
This one had to be the first on the list because this is where it goes wrong. Like we discussed the benefits of wearing a durag for waves, it well does protect your hair from environmental damage too. Technically, wearing a durag has nothing to do with hair growth. But as your hair is free from all the unnecessary chemical exposure, it tends to grow well. So wearing durags most certainly does not slow down your hair growth, and you are free to wear as many durag as you like.
2. Wearing durags all the time damages your hair
If you have seen people wear durags all the time, it is because the wave growth is accelerated. The only possible damage to your hair is due to friction, which happens when the durag is not made out of proper material. Wearing a durag during the day protects the hair from environmental damage, while wearing one at night will prevent frizz and breakage. Keeping a durag on all the time will also rid you of touching your hair. So now you know that wearing a durag (properly) has no ill effect on your hair and gives you beautiful waves in less time.
3. You don't see the waves unless you wear multiple durags
Some people wear more than one durag whose hair type is difficult to maintain in waves using one durag only. This does not mean wearing a single durag doesn't give better results; usually you get the work done by wearing one durag. But you might've seen people who regularly use double or more durags which is not quite a healthy practice. Hence, if your hair type doesn't require you to wear multiple durags, you are good to go with a single durag too.
4. Colouring damages your waves
The myth about colouring is widespread and comes in several versions, one of which is this one. Colouring your waves is not harmful as long as you take proper care after that. Using good products and practicing good hair hygiene is enough to keep your waves nourished. De facto, colouring your waves will urge you to take better care of them!
What makes a good Durag?
Although this list comprises the bestselling durags, there are certain features that you should consider before buying your favourite colours. 
MATERIAL
There are so many reasons for why the material of the durag should be of good quality. The most common fabrics used are 
Satin
Velvet
Silk 
Mesh 
Polyester 
You have to make sure the fabric is neither too thick nor too thin.  The fabric should be breathable (little bit thin) so that the sweat doesn't cause odour or infection. But it shouldn't be very thin as it can keep slipping off from your head while asleep, which is bad for your waves. The material should be stretchable but shouldn't permanently change its size over time.
STITCHING 
In many pieces of clothing, you will observe that the stitches are on the inside. But if that happens with your durag, wear it inside out. For durags, it is advisable for the stitching to be on the outer side rather than the inner side. If the stitches are on the inside, they will leave line-like impressions on your waves, giving it a very bad look. You have to make sure the durag is soft and smooth from the inside.
COVERAGE
The durag should cover your entire head, without leaving any hair out. Although most durags come as one-size items, you should check the general dimensions of the product before buying. 
FITTING
The durag should fit you like a second skin. It shouldn't slip off from your head or squeeze your head. The durag should fit you properly and shouldn't stretch over time. 
STRAPS
The straps should be long enough to at least make two loops around the head. They should be wide and thick to withstand the strain while tying the durag round the head. 
COLOURS AND PATTERNS
Lastly, of course there should be a variety of colours and patterns to choose from. Having durags of different colours and designs also helps you to distinguish between your collections; so that you don't end up wearing the same durag again without even knowing if it's washed or not (that's a way to damage your hair). 
In conclusion, wearing durags provides all-round benefit to your waves, enhancing their quality and look. This article provides links to the best durags for waves that you can find online.