One of the most common skin problems that women face is acne. Acne is basically caused when the hair follicles become clogged with dead skin skin cells and oil. It has many causes like hormonal, genetical etc. For some women it becomes very difficult to control the acne or get rid of it as they leave behind scars. For this using the right acne treatment and skin care products is very essential as if you fail to do so it might just worsen the acne problem rather than have it in control. Here, face wash plays a very important role as it is something that use twice a day. It is basically the most used skin care product that you apply on your skin. Hence you need to be very careful. You want a face wash that reduces the oil secretion, cleanses it deeply and of course prevents acne. There are a lot of brands that have come up with face washes that are formulated especially for acne prone skin. One might easily get confused as to which one to buy as there are so many. To lessen that dilemma, here are the 10 best acne face washes for pimples and dark spots.
1. Burt's Bees Natural Acne Solutions Purifying Gel Cleanser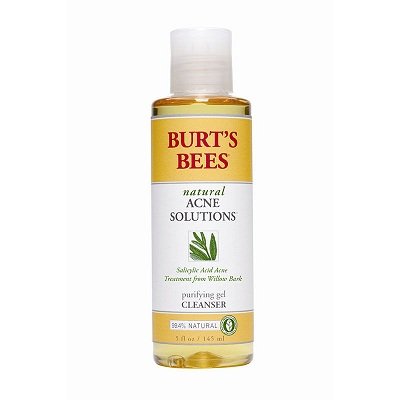 As the name suggests it has a gel like consistency and consists of almost all (99.4%) natural ingredients. It has salicylic acid which fights acne. It is very soothing for your skin as it has extracts of beet root and primrose. Along with reducing irritation, it also reduces inflammation. The best part about it is that it is suitable for a variety of skin types. Although one must make sure that after using this face wash a good moisturizer is applied to prevent drying or breakouts.
2. Clean And Clear Foaming Facial Wash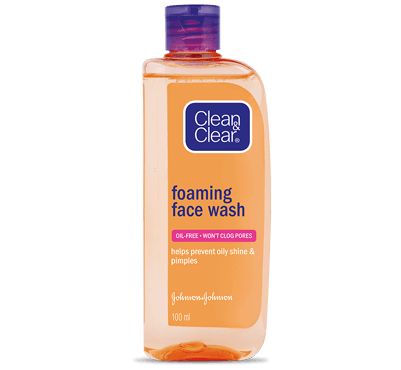 This is suitable for oily as well as sensitive skin types. It lathers well and the rich foam helps in deep cleansing of the skin which avoids acne and pimples as well. It has a very refreshing effect and does not dry your skin at all. It has a very pleasant scent too. The effects of this face wash for a very long time. Your skin will be oil free and clean for the whole day and in the longer run it will prevent acne.
Must Read: How to Get Rid of Whiteheads Faster
3. Clinique Acne Solutions Cleansing Foam
This is best suited for sensitive skin. It is on the high end side but it is definitely worth it. It fights acne without irritating your skin and avoids breakout too. In fact, it soothes your skin and makes it soft and supple. The best part is that you require very little amount of the product. Just one pump is enough for it to do its job.
4. Himalaya Herbals Purifying Neem Face Wash
Another very affordable product, this contains all natural ingredients hence no need to worry about any side effects. This is a very mild face wash and one of the best facial cleanser for everyday use. It is soap free which is a plus. Its main ingredients are neem and turmeric. It is very refreshing, deeply cleanses your skin but at the same time avoids dryness or breakouts. It is suitable for all skin types.
5. Neutrogena Oil Free Acne Wash
This has salicylic acid which cures and prevents acne and also fights breakouts and blemishes. It also gets rid of all the extra oil, grease and grime. It gently exfoliates your skin hence getting rid of the dust particles and dead skin. This is a gel based face wash which does not dry out your skin and does not even clog your pores.
Also See: How to Get Rid of a Tan Naturally
6. Cetaphil Oily Skin Cleanser
This one is a great product for acne prone skin and is probably the best acne face wash for oily skin. It gets rid of all the oil and leaves your skin with a soft glow. It is quite mild in nature, does not clog pores, removes dirt and grime and does not dry out the skin. It is capable of reducing the sebum production by 60%. It is also known for clearing away the blemishes.
7. The Body Shop Tea Tree Facial Wash
Along with deeply cleansing the skin, this face wash refreshes it too and soothes it, all thanks to the tea tree extracts present in it. It is very mild hence it is perfect for an everyday use. It controls excess oil and also gives you a clearer and even complexion. It is definitely one of the best face wash for acne scars.
8. La-Roche Posay Effaclar Purifying Foaming Gel Cleanser
It is specially made for oily and sensitive skin types. The effaclar gel present in it cleanses the skin which makes it the best facial cleanser for sensitive skin as it does so mildly. It gets rid of oil and impurities and leaves your skin clean, fresh and soft. It has soothing and anti-irritant properties in it. It is soap free, paraben free and alcohol free.
9. Vichy Normaderm Deep Cleansing Purifying Gel

It is suitable for all skin types. This gel face wash cleanses skin, unclogs pores, prevents acne and prevents extra oil secretion. It is rich in salicylic acid and totarol which are great in cleansing the skin from deep within. It makes your skin look healthy and smooth. It claims that visible result will start showing after 4 weeks of its continuos usage.
10. Garnier Skin Naturals Pure Active Neem and Tulsi Foaming Face Wash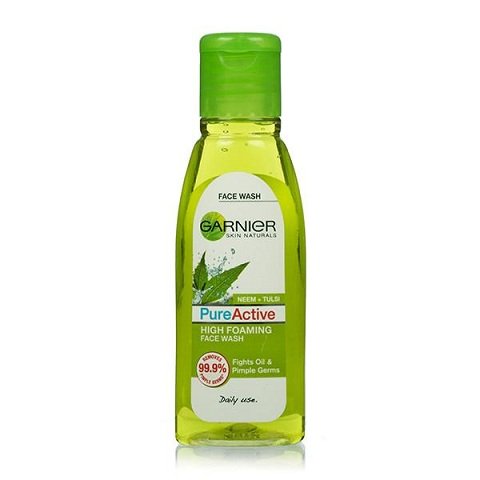 Salicylic acid, neem and tulsi are its main ingredients which cleanse the skin from deep within, nourish it, soothe it, refresh it and prevent pimples and acne. It gently exfoliates the skin hence removing all impurities but without being harsh on it. You need very little amounts for it to work its magic. And it is quite reasonable too.
Right from affordable products to high end, this list covers the best face wash for acne and pimples one can look for in 2018. Make sure you use the one which best suites your skin. These products are sure to give you the acne free skin that you want.