So, it's done. You've planned the trip; you've bought the tickets. You've even found your online assignment helper. (If you haven't, here's an assignment helper for you.) Now, you can ponder the truly important questions, like what you're going to wear to the beach during your summer break.
And since you're reading this, you must have a penchant for DIY – and you'd love to DIY a unique beach outfit everyone will envy. So, here are four DIY beach outfit ideas to inspire you!
Two-Scarf Cover-Up
All it takes is two scarves to make this cover-up – as well as a sewing kit and a bit of your time. What's great is that you can experiment with colors and patterns and choose any combination or palette you want. Plus, you can get the scarves from your local thrift store on a dime!
To make a cover-up using two scarves, stitch the two scarves together on the long side, leaving space for your head in the middle. Done! You can complement your look with a belt of your choice or wear the cover-up as a poncho.
Note: opt for viscose or cotton scarves when you make this cover-up. Synthetic fabrics like polyester don't breathe as well, so wearing them in summer is low-key torture. Plus, they don't dry up as fast, either.
Below-Knee Beach Skirt
The original tutorial by Kaara's Style describes how to turn an old crocheted blanket into a cute DIY beach skirt, but any rectangular piece of fabric can be repurposed for this project (e.g., a scarf). Of course, you'll have to take your sewing kit out for this idea as well, but it's beginner-friendly!
Here's what you'll need:
A blanket, scarf, or a piece of fabric (it should wrap around your waist once);

Elastic;

Scissors;

Safety pins;

Sewing machine.
And here's your step-by-step guide:
Wrap your fabric around the waist and place a pin where you should sew a seam to close the skirt.

Sew the seam, either all the way or with leaving a slit to show off those legs.

Wrap the elastic around the waist to measure how much of it you need, add a few inches to it to tie a knot, and cut.

Turn the skirt inside out and sew the closing; if you're not using a crocheted blanket, leave a hole to pull the elastic through.

Insert the elastic using a safety pin and tie the ends. Sew up the hole.
No-Sew Tie-Dye T-Shirt Cover-Up
If you're not a fan of sewing, this project is for you. You'll need an oversized white T-shirt, a pair of scissors, and tie-dye materials (dye itself, rubber bands, gloves) for it. As a result, you'll get a cute mini-dress-slash-cover-up that no one else can boast!
If that piques your interest, here's your mini-tutorial:
Follow the instructions of your chosen tie-dye to paint it.

Once it dries, lay it flat and cut off the sleeves at the seam.

Cut straight across the neckline at the seam.

Fold a casing around one inch wide at the neckline on both sides and use Fabric Fusion tape to fix it in place.

Cut the discarded t-shirt fabric to create two long stripes and put one through the casing in front and the other one in the back.

Tie the strands together. Done!
No-Sew Fringe Top
Why pay for a brand-new fringe top when you can make one yourself? Just pick the top you already own or get one from a thrift store and make sure you have some scissors and beads in your kit. And yes, this is another no-sewing project on the list!
Here's how to DIY a fringe top:
Cut off the casing at the bottom of the top.

Snip 0.5-inch-wide stripes halfway up the top.

String the beads on every stripe and knot the ends. Done!
Note: you don't even need to start with a top. If you have a t-shirt you'd like to transform, just cut off the sleeves. Or, you can use the steps above to add fringe to a dress, too!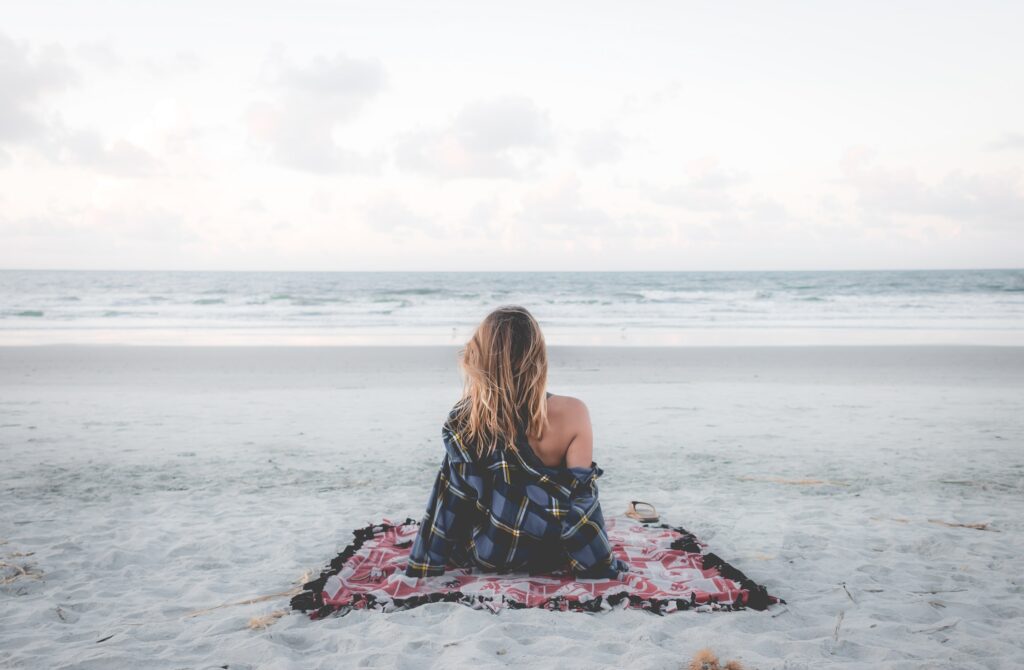 In Conclusion: 5 More Ideas That Didn't Make the Cut
These four ideas above are just the crème-de-la-crème. Many more simply didn't make the cut. But it'd be unfair to omit them altogether. So, here's a quick list of five more DIY beach outfit ideas you can draw inspiration from:
Turn an XXL men's t-shirt into a dress with a belt or elastic and cutouts.

Lace crochet or knit a duster-style cover-up or tunic.

Transform a thrift store rag rug into a beach bag.

Sew two matching old towels into a kimono-style beach cover-up.

Turn a scarf into a no-sew convert-up with a simple wrapping technique.